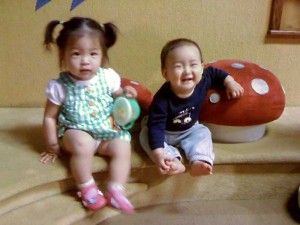 the children's discovery museum has become my go-to spot to bring girls on dates. my first time was with sierra — i was about 2.5 months old. aside from watching sierra create an art masterpiece, i mostly sat around, people-watched, and soaked in all the sights and sounds.  i did spend some time in the "crawl space", an enclosed area especially designed for pre-walkers, but since i didn't know how to crawl (or even sit up) yet, i needed mommy's help to explore the enviornment.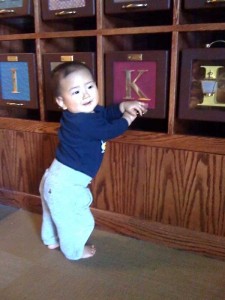 today, i went back to my spot with maddie.  now that i am crawling like a madman, i had a lot more fun.  i was able to pull myself up to look at some of the cool displays intended for toddlers, and i was able to interact with a lot of the exhibits.  i was so excited to be crawling around and exploring on my own, that when i lost sight of all familiar faces, i didn't care one bit.  i even found a giant block with a K for KYDEN!
there is so much of the museum that i am too young and too little to appreciate, but every time i've gone, i learned a lot and had a great time. of course, it doesn't hurt that all my dates have been cutie pies 😉 i plan to continue visiting the children's discovery museum as often as i can. it's free for kids under age 1, so why not, right? who wants to be my next date? if you're under age 1, it's my treat!
Tags : friends, local hotspots | 6 comments