when mommy asked me if i wanted to go to the art and wind festival this year, i said yes. but then, i looked at the photos and videos from last year, and it all came back to me.  "you just walk around and look at stuff.  that's boring."  the problem was that i went with a bunch of grown ups last year.  seven grown ups and me.  sienna didn't come with us because she was at home, napping.  so this year, it was just me and sienna and mommy and daddy.  and we checked the schedule in advance to make sure we could catch the fun kid stuff that we wanted to do and see.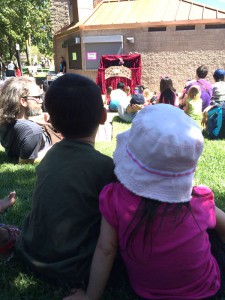 we headed out after lunch, and we got special passes to park in uncle ritchie's neighborhood again.  (thanks uncle ritchie!)  when we arrived at the festival, we headed straight for the children's puppet theatre to wait for a production of "three billy goats gruff".  (uncle ritchie and auntie margaret found us there and watched with us.)  it was our first time watching a puppet show!  it was a fun and interactive show, and sienna and i both really enjoyed it.  from the photo it looks like we were far away, but we had the best seats in the house because we were in the shade. =)  we liked the puppet show so much that we wanted to stay for the next performance, "little red riding hood".  but since it wasn't going to start for a little while, we went to check out the rest of the festival.
i didn't want to just walk around and look at boring stuff with uncle ritchie and auntie margaret, so we split up from them and went to find the kid's zone.  by the time we got there, sienna was asleep in the stroller.  i found a ball toss game that i wanted to play, so i got in line.  when it was finally my turn, the lady asked for 3 tickets.  tickets?  what tickets?  we didn't have any tickets.  we looked over at the ticket booth, and the line was 10+ people long.  mommy didn't want to wait because it was too hot.  so instead, we decided to go get some jamba juice.  yesss!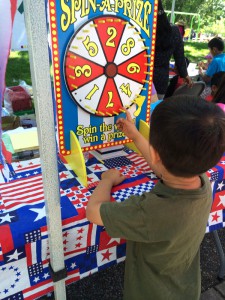 we made it over to the food court area, and guess what.  they were out of jamba juice.  i was so upset and i couldn't understand how they could possibly be out of jamba juice.  why couldn't they just make more???
we had about 30 minutes before the keiki hula performance — sienna wanted to see it because she wants to join a halau when she turns 3.  so in the mean time, i dragged mommy back to the children's puppet theatre where we caught the second half of "little red riding hood".  after the puppet show, we made our way over to the ampitheatre for the hula performance.  on the way there, i spotted a "game" at one of the booths.  the lady said i could spin the wheel to win a prize, but i told her i didn't have any tickets.  she let me spin anyway, and i won a plastic bracelet with something printed on it.  i have no idea what.  but i got a bracelet.  cool!
sienna was still sleeping when we got to the hula performance, but we stayed and watched for a few minutes anyway.  i didn't really like it because it wasn't "real hula". sienna's style of hula doesn't really look like real hula either.  daddy says she looks like one of the plastic hula dolls that sit on your dashboard and bobbles around as you drive.
even though it seemed like i had fun at the art and wind festival this year, i told mommy that i didn't. it would have been fun if i got to play games. i hope mommy and daddy remember that for next year.
Tags : video | add comments