at school, sienna and i both did projects showing what we are thankful for this thanksgiving.  i am thankful for yummy food like salad and ranch (dressing).  sienna is thankful for mommy and daddy a nd me and gung-gung, and koda.  after i saw what sienna is thankful for, i burst into tears.  i felt terrible for not saying that i was thankful for my family — i had picked food that i was thankful for because that's why all my friends at school were doing.  don't worry, i made sure to tell mommy that i was thankful for her.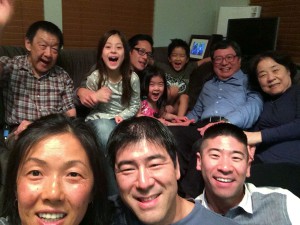 anyway, since we had been recovering from our trip all week, we weren't thinking about thanksgiving.  apparently, nobody else was, either.  grandma and grandma were planning to have a small dinner with uncle randy.  uncle jamie and auntie alyssa joked about going out for hot pot.  it seemed that we were on our own for thanksgiving.  but the thing is, daddy won a turkey in that golf tournament that he played in last week.  and daddy loves turkey with all the fixin's, so he asked mommy to make a traditional thanksgiving dinner.  for him.  so, since mommy was going to be making dinner anyway, we made everyone come over to help us eat all the food.  plus, mommy thought it was pretty lame that everyone was going to spend the holiday separately.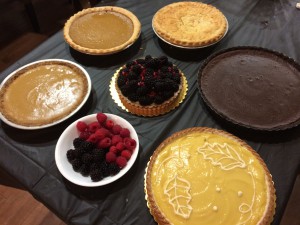 it was all very last-minute, but our thanksgiving dinner came together nicely — especially when it came to dessert.  we had six pies!  mommy made two, uncle randy brought two, and grandpa brought two.  apparently, nobody talks to each other.  or maybe everyone just really likes pie.
we had a wonderful thanksgiving.  daddy got his delicious turkey with gravy, stuffing, and green bean casserole.  sienna and i got to play with cousin zoey.  and the most important thing is that we all got to spend the holiday together with our family.  happy thanksgiving!
Tags : thanksgiving | add comments