while mommy and i were at the WOC sports day event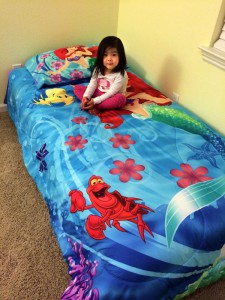 last weekend, daddy and sienna went bed shopping.  sienna's new mattress was delivered that night, but daddy still had to disassemble her toddler bed and air out the new mattress, and mommy had to buy and wash sienna's new bedding.  sienna wanted a hello kitty comforter and sheets, but mommy vetoed that idea because everything hello kitty is pink, which would not have matched with sienna's yellow walls.  but mommy found a little mermaid bedding set which sort of matches if you squint and glance away after about 2 seconds.  (the walls in that room were baby blue when we bought the house.  the color would have matched perfectly.)
sienna loves her new big girl bed.  she calls it her "mermaid bed".  she was so happy that she was finally going to sleep in it tonight.  that is, until mommy pulled the covers back.
sienna threw a fit.  she screamed and cried so hard that she couldn't talk.  after she eventually calmed down, mommy figured out that sienna didn't want ariel to be covered.  so, the pillow always has to be ariel-side up.  (the other side has a different design).  and the comforter cannot be folded over.  so, even though it's a really warm night, sienna got under the blankets and insisted that the comforter be pulled over her so that ariel would be showing.
there is something seriously wrong with my sister.
Tags : sleep | add comments