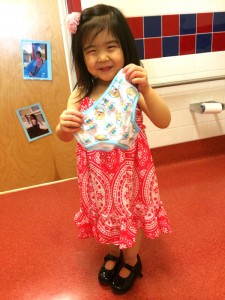 guess who's potty trained.  yes, sienna!  well, during the daytime, anyway.
for a long long long time, she was staying dry all day at school, but she was peeing in her pull-up in the evening.  but that was because mommy and daddy weren't reminding her to go potty every couple of hours like her teachers do at school.
a couple of weekends ago, i was shopping with mommy, and we picked out some frozen and little mermaid underwear for sienna.  her favorites!  mommy washed them and put them away so they would be ready for sienna whenever she was ready for them.  well, that's all it took.  starting the very next day, sienna dressed herself in her underwear and insisted on wearing them.  the deal she made with mommy and daddy was that she could wear underwear, but if she had an accident, she would change into a pull-up for the rest of the day.
well, sienna did have potty accidents a couple of times, but since then, 100% dry.  no more diapers!  (except for at nighttime.)
i, on the other hand, went to bed pull-up-free for almost a week.  i wet my bed every single night that week.  mommy and daddy tried everything.  cutting off liquids at dinner time.  making sure i peed right before i fell asleep.  one time, mommy even woke me up to pee.  sometimes, i'd wake mommy up (always mommy, never daddy) in the middle of the night to tell her i had an accident.  sometimes, i would just wake up in the morning soaked in pee.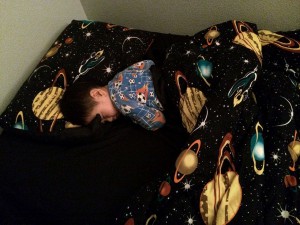 one time, mommy checked on me when she came home from volleyball (around 10:30pm) and she saw that i was wet.  so she woke me up, cleaned me up, changed my sheets, and put me back to bed.  then she checked on me again before she went to bed (around 1:00am) and i was wet again!  that's when mommy finally realized that i'm not peeing in my pull-up in the morning when i wake up — i'm peeing during the night.  sometimes more than once.  i guess that's what happens when you have a tiny bladder and you sleep like a log. zzzzzzzzzz…
so anyway, i'm back to wearing pull-ups at nighttime.  i wonder if sienna will be nighttime potty trained before me.
Tags : potty | add comments