the last few times that sienna has gone to a sharks game, she went with mommy and auntie judy.  but sienna is too big to sit on mommy's lap now, so today sienna got her own seat for the first time.  she had a hard time understanding why auntie judy couldn't go with them.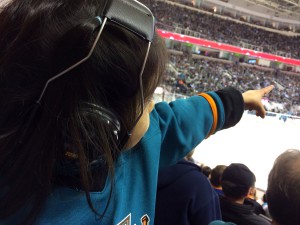 sienna paid a little more attention to the game than she had before — at least she wasn't flashing everyone like that one time last season. she did the cheers but she wasn't into the action on the ice.  i think she was most excited about the continuous ring of lights around the arena.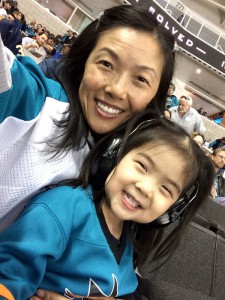 even though she had her own seat, sienna still insisted on sitting in mommy's lap.  mommy didn't mind — she said that sienna is a pretty good lap warmer.  sienna's seat (and actually, the 2 seats next to hers) were empty throughout the entire game.  what a waste!
sienna fell asleep during the 3rd period, which is crazy because all the scoring happened in the 3rd period.  but the sharks didn't do enough, and they ended up losing to the sabres 1-2.  they looked terrible.
after the game, mommy and sienna spent the afternoon with miss denise (our former nanny) and her family.  i haven't seen her in almost a year!  they had a nice visit, and i am bummed that i missed out.  but that's okay, daddy and i spent the day doing some daddy/son bonding.  i hope to see miss denise soon, though!
Tags : nanny, sporting events | add comments