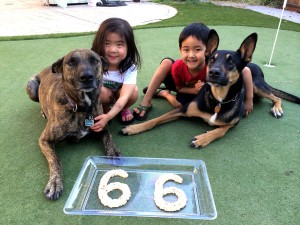 tomorrow is koda and kiara's birthday.  but since we are going to san diego tomorrow, we celebrated their birthdays today.  for the special occasion, mommy made "apple pie" treats for the dogs.  it was a recipe from a cookbook full of organic gluten-free treats that uncle henry gave koda a few years ago.  they were made with 100% human-grade ingredients that we had in our cupboards, so i guess it wasn't all that weird that mommy sampled them.
while we sang happy birthday to koda and kiara, they waited patiently for their special treats which were sitting right in front of them.  then when we told them to "take it", koda gobbled his right up.  kiara sniffed hers and walked away.  she eventually ate it, but it took her a long time and it seemed like she only did it to be polite.  i guess it was just too healthy for her.  we are used to eating organic gluten-free foods in this house. 😉
happy 6th birthday to koda and kiara!
Tags : koda | add comments