grandma makes a traditional japanese meal every year for new year's day.  she says that since nobody likes the food, she just makes a small amount for herself and grandpa.  ummm, hellooo???  i guess she forgot that i love all the special food she makes!  i reminded her.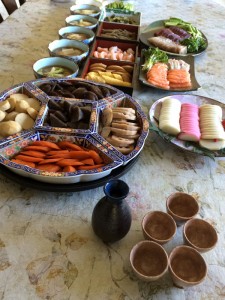 i also invited myself and the whole family over for a new year's day lunch.  so all of us, including auntie barbara and uncle randy, converged at grandma's house today.  grandma made a whole big spread for us, including sushi (a newfound favorite of mine).  one of the traditional dishes that she makes is soup with mochi.  it's called ozoni.  nobody really likes it except for me and sienna.  auntie barbara says the mochi makes her gag.  maybe next time grandma can cut it up really small for her like she did for me and sienna.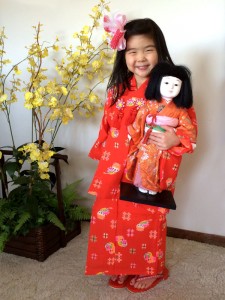 all of that traditional food must have put grandma in the mood for more traditional japanese things.  so grandma asked sienna if she could dress her up in a kimono that our great-grandma sent from japan.   the kimono was actually auntie barbara's, but i don't think she ever actually wore it.  it was waaay too big for sienna, but after grandma did a little sewing, it was perfectly sienna-sized.  and since sienna loooves playing dress up, she was completely on board with the whole idea.
so, yeah… that happened.  grandma turned sienna in a life-size japanese doll.  what do you think?  who wore it better: sienna, or the actual japanese doll? 🙂
happy new year everyone!
Tags : family, new year | add comments