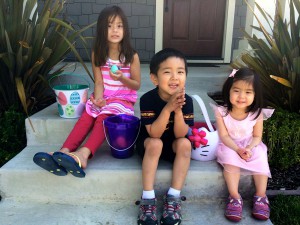 happy easter!  we joined in on our neighborhood egg hunt and brunch last year, but this is our first official easter living in our new house.  and actually, the easter festivities take place in cousin zoey's cul de sac, so this morning, we walked across the park to her house.  we all lined up at the end of the cul de sac, did a countdown, and then everyone was off and running.  everyone except sienna, that is.  she casually strolled along, wearing the new easter dress that grandma sent, and daintily carrying her new hello kitty easter basket from uncle henry.  daddy says that he's raising her to be a princess.  she shouldn't have to work for things — things should come to her.  i think she's learning well.  see for yourself.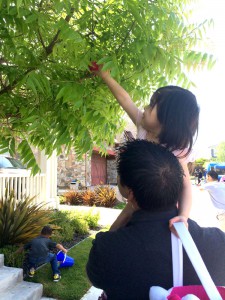 most of the eggs were not very hidden — they were laying out in plain sight. some were a little harder to get though, like the ones up in the trees. i quickly filled up my bucket, dumped it out in cousin zoey's house, and went back out for round 2. i filled up my second bucket, and sienna eventually filled up her hello kitty basket. by that time, all of the easy-to-find eggs were gone. so we were done. sienna and i headed inside to play at cousin zoey's house.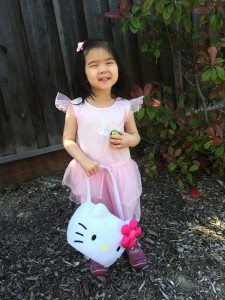 all of the other kids (and adults) were out mingling in the cul de sac or trampling gardens in their quest for the golden eggs. the golden eggs had numbers in them, and prizes were awarded according to the number inside. sienna thought she had found a golden egg, but it turned out to be a fake.  (it's metallic, but more green than golden.)  mommy eventually found an authentic golden egg and gave it to me. i turned it in for a matchbox car, a punching balloon, and pack of fun dip. i refused the fun dip even though it was offered to me repeatedly. everyone thought that sienna and i were just being anti-social hanging out inside, but i later told mommy that i didn't want to be outdoors because it was too hot.
we eventually went back out to join the festivities. there was a potluck lunch, a slip 'n slide pool combo, and even a shave ice machine! i really wanted to play in the slip 'n slide, so daddy went home to get my swim clothes. i jumped in, and immediately jumped back out. the water was icy cold! i only swim in 92 degree water. i don't think i'll ever be able to swim in a normal pool. i was perfectly happy with my icy cold shave ice though. sienna too.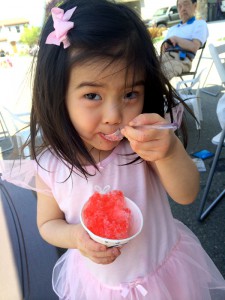 when we got home, sienna took a nap while i opened our eggs and sorted our stash. we got a lot of chocolates and starbursts for daddy. we don't get to eat any of the candy, but that's okay because we got a giant bouquet of fruit (sent by uncle randy, of course) while we were out :). we also got a few stickers and a handful of quarters. quarters! those went right into my money jar. we don't have to tell sienna about those. next year, we're going to pay more attention to which house has the quarter-filled eggs and start collecting eggs there from now on.
happy easter!
Tags : easter, video | add comments