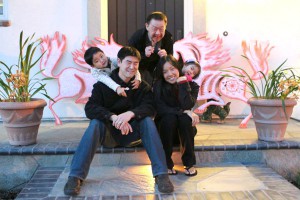 it's that time of year again when people bring oranges to our house and give red envelopes to me and sienna.  yup, chinese new year.  auntie mimi and her family had a huge celebration at their new house and we were lucky enough to be invited.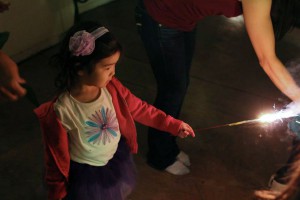 mommy and gung-gung feasted on their favorite traditional dishes like jai, daddy and i had our fill of noodles and potstickers, and sienna gorged herself on fruit.  (with all of sienna's allergies, there's not a whole lot that she can eat when it comes to chinese food.)  somewhere around our third plate of food, a 3-year old boy named lane came over and invited me to play hot wheels with him.  i didn't pay much attention to him because i wasn't interested in playing cars.  i wanted to play "the game".  mommy  didn't know what i was talking about.  i tried to show her, but we were intercepted and diverted to the courtyard to do fireworks.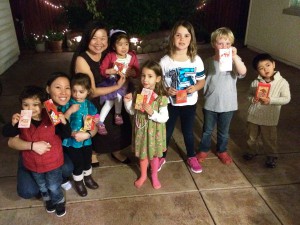 after the fireworks, i took mommy over to "the game".  all evening, i had been watching grown ups (who i didn't know) noisily spread tiles all over the table, stack them up, and then one by one, throw them back into the middle of the table.  apparently the game is called mahjong.  i wanted to play too.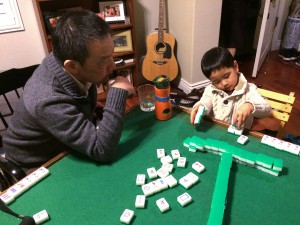 so after everyone else was done, mommy taught me how to play.  we played 3 rounds, and i won all 3.  mahjong is the best game ever!
thanks for inviting us to your awesome chinese new year celebration, auntie mimi!  gung hay fat choy.  happy year of the horse!
Tags : CNY | 2 comments