CHRISTMAS EVE DINNER
we hosted christmas eve dinner for mommy's family at our house this year.  (it's not that daddy's family wasn't invited, but grandma really likes to host christmas at her house.) mommy made a ton of food, and our family brought food over also.  unlike thanksgiving we didn't end up with a whole pie for every person.  darn!

sienna and i had stuffed our faces with crackers and cheese, so we weren't all that hungry when it was time for dinner.  my favorite dish was the cheese and crackers. sienna's favorite was the cranberry sauce.  mommy had made it to go with the turkey, but sienna preferred to eat it plain. a LOT of it. after we had eaten enough real food to satisfy our parents, sienna, cousin zoey, and i headed upstairs to make miis for anyone who didn't already have one.  that's even more fun than playing actual wii games.
after everyone finished eating, it was time to open presents.  one of the presents i got was a mini air hockey table.  yesss!  auntie jan and uncle harvey (who gave me the gift) helped me set it up in the loft.  we spent the rest of the evening playing air hockey.  auntie jan told mommy that i got mad whenever someone scored a goal on me.  mommy says that i'm a sore loser.  i just call it being competitive.
CHRISTMAS MORNING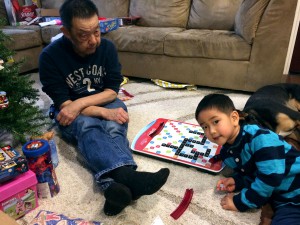 we've heard that most kids wake up super early on christmas morning. sienna and i are not most kids. we slept in, had a leisurely brunch, and eventually made our way to the presents under our tree. we have really generous friends and family, and we got a lot of great gifts.  i couldn't wait to open some of them, especially the board games.  gung-gung and i played connect 4 and scrabble all morning.  scrabble is the best learning game — it's a fun way to practice spelling and adding (keeping score).
CHRISTMAS DAY DINNER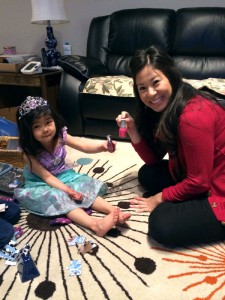 after lunch, we headed over to grandma's house.  the first thing sienna did when we got there was sit down for a pedicure.  sienna had been looking forward to it for months.  since mommy claims not to know how to use nail polish, the only time sienna gets her nails done is when auntie barbara is around.  she loves having her nails done!
we had another yummy christmas dinner with a lot of the same dishes that we had yesterday.  and then after dinner, it was time for the main event.  PRESENTS!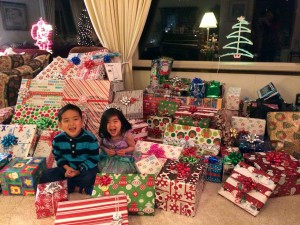 daddy's family has always had a problem with buying gifts, as in, they don't know how to stop.  but this year, they swore that they made an effort to scale it back.  look at this picture.  does that look "scaled back" to you?  the presents don't even fit under the christmas tree!  because there are so many gifts, opening presents at grandma's house really is an "event".  i wonder if the reason why grandma likes to have christmas at her house is because she and grandpa wouldn't be able to transport all those gifts to our house. 😛
we had a wonderful christmas and had fun spending our family.  and of course, we love all of our presents.  my favorite gifts were the air hockey table and my watch.  i have been wanting both of those things for a long time.  sienna's favorite gifts were the pretty dresses that she got from auntie barbara.  they are really fancy, and they all fit her perfectly right now.  mommy said that auntie barbara needs to get married next year — FOUR TIMES — so that sienna will have opportunities to wear all of those dresses before she outgrows them!
we are so exhausted because we've been staying up way past our bedtime for the past couple of nights.  merry christmas to all and to all a good ni– zzzzz….
Tags : christmas, family | add comments