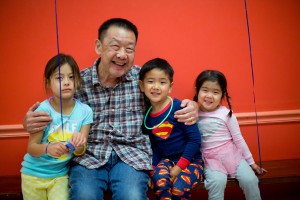 i started planning my 5th birthday party almost a year ago.  for many months, i was sure i wanted to have a bowling party at a real bowling alley.  then i changed to pump it up.  then mini golf.  then a park party with a magician.  but i finally settled on partipalooza.
i put together my own guest list, which was really hard to do with the limited capacity.  i have all my old friends from the south bay, but i also have a lot of new friends that i've made here in the tri-valley.  and it seems like all my friends now have one or more siblings!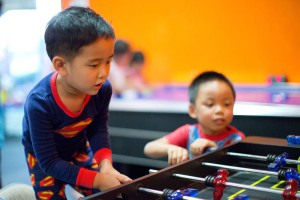 i wanted to have a superhero themed party — i even suggested that all the girls could dress up as wonderwoman — but mommy thought that my friends and i might not be very comfortable bouncing, climbing, sliding, and bowling in full costume.  so instead, i had a super hero pajama party.  and it sure was SUPER!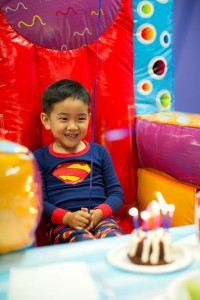 in the first room, there were a bunch of inflatables to jump around in/on, but i spent most of my time playing foosball and air hockey.  sienna was bouncing and sliding non-stop.  in the second room, there was another big inflatable, but there was also a rock climbing wall, basketball hoop, and my favorite… mini bowling!  i spent a lot of time bowling.  shocker.
we made our way to the party room where i got to sit in a big inflatable throne like a king!  we ate pizza and mini bundt cakes (my choice), and then i handed out my superman-themed party favors.  my favorite part of the night was sitting in the big throne. 🙂
i had a super great time at my SUPER pajama party and i hope all my friends did too.  click here for photos from the party.
Tags : birthday party | add comments