Posted by
kyden
on
Wednesday Oct 2, 2013
Under
sienna
sienna is definitely allergic to peanuts and eggs.  but what about wheat?  in her two skin prick tests (a year ago and 4 months ago), she tested negative for a wheat allergy.  and she used to eat things with wheat in them all the time — they never made her itchy or caused any breathing difficulties.  so it was confusing that her blood tests came back moderately positive for a wheat allergy.  mommy's theory was that it aggravated her eczema.
when sienna went to see the dermatologists at UCSF, she was prescribed some steroid ointments for her eczema.  she used it for a few days, and her eczema disappeared.   her skin has been looking fantastic for weeks.  so mommy thought it was time to reintroduce wheat into sienna's diet, then see if the eczema flared up.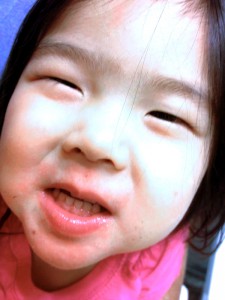 so monday morning, we said hello to wheat.  mommy made us muffins for breakfast.  she made them with real whole wheat flour — not the almond/arrowroot/aramath/whatever flour blend that she usually uses.  and she packed a sandwich in sienna's lunch.  the sandwich was made with a pita — not the gluten-free wraps that sienna usually gets.
the muffins were so yummy.  i ate 3 of them.  sienna liked them too.  she liked them so much that she kept eating them even though they were making her itchy.  and sure enough, there were hives all around sienna's chin and mouth too.  no more muffin for sienna.  and mommy had to re-make sienna's lunch, too.
mommy was perplexed.  sienna had never reacted to wheat before.  maybe sienna was reacting to the coconut oil in the muffin?  everything else in there was stuff that she'd had before — bananas, blueberries, coconut, and fake egg.
so today, mommy did an experiment on sienna.  on one arm, mommy rubbed some coconut oil.  on the other arm, she rubbed a paste that she made out of wheat flour and water.  within seconds, sienna started complaining that the wheat paste arm was itchy.  and then it turned red and hivey.  the coconut arm looked shiny and well-moisturized.
mommy was wiping sienna's arm with a towel and apologizing to her just as daddy came home.
daddy:  what are you doing to our daughter?

mommy:  it's the wheat.  she's allergic to wheat.

daddy:  uh, yeah.  we knew that.
poor sienna.
bad mommy.
goodbye, wheat.
Tags : allergy, bad mommy | add comments