Posted by
kyden
on
Tuesday Aug 26, 2014
Under
sienna
a couple of  months ago, sienna did another skin prick test and tested negative for an egg allergy.  hooray!  but before we celebrated too much, sienna had to do another oral challenge to make sure she had really outgrown her egg allergy.
so she went in for the oral egg challenge today.  just like last time, mommy made some tamago, and she and sienna went in to the doctor's office prepared to spend most of the day there. when sienna arrived, she was greeted by three different nurses/doctors as the "singing baby".  i guess they remembered her performance from her last visit. 😛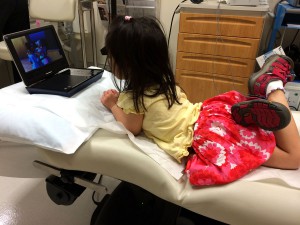 the first "serving" that sienna got to eat was 1/8 tsp.  she happily announced that she liked it and that it tasted like tofu!  after she ate it, the nurse checked to make sure she didn't have any sort of allergic reaction.  she was fine.  so 15 minutes later, sienna got to eat 2x the previous serving — 1/4 tsp.  again, the nurse checked her and she was fine.  so she waited another 15 minutes.  the nurse set up a portable DVD player so that sienna could watch a movie in between her tiny bites of egg.  the third serving was 2x the previous amount — 1/2 tsp.  that bite did her in.  within a couple of minutes, she started getting hives around her eye and mouth.  the doctor came in, and he called off the challenge.  sienna: 0, egg: 1.  (actually, that's 2 points for egg since this is the second time that sienna has failed an egg challenge.)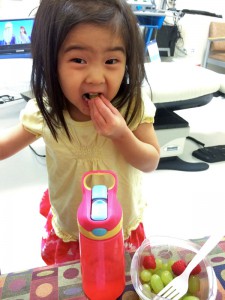 the nurse gave sienna some benadryl, and the little hives went away within a few minutes.  but just to be safe, they made sienna stay for two more hours for observation.  luckily, mommy brought a big container full of fruit for sienna to eat.  she was starving because she wasn't allowed to eat anything in the morning before the oral challenge.  mommy was hungry too, so she ate the rest of sienna's tamago. 🙂
well, the bad news is that sienna failed another egg challenge — she's still allergic to egg.  the good news is that mommy and sienna were outta there in plenty of time to go eat a real lunch!
Tags : allergy | add comments