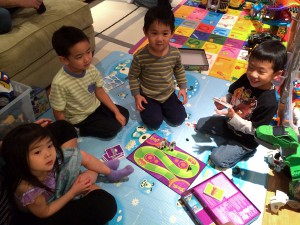 every year for as long as i can remember (the past 3 years), we've rung in the new year with a NY NYE party at matthew's house. if you haven't been paying attention, NY NYE = new york new year's eve. we do our countdown on eastern time.  it used to be that just us big brothers celebrated together, but now we all have little siblings. good thing matthew has a couch that's big enough for all of us.
edison and lucas couldn't make it this year, but logan and mason joined in on the fun for the first time.   we ate a yummy dinner, we played with matthew's toys, and we even got about halfway through a board game before everyone lost interest.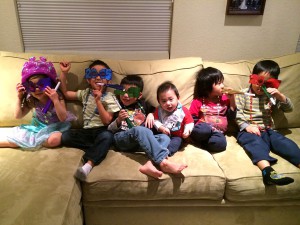 and then just like every year, we gather on the couch with our party paraphernalia just before midnight (EST) and do the countdown together.  at 9pm, we all blow our party horns and destroy the hair cells in each others' ears.  it's so fun that it's totally worth the noise-induced hearing loss that will probably result some day.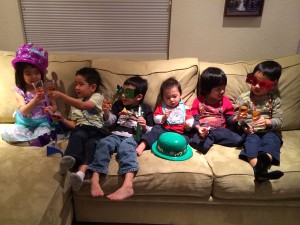 and then…  we all get a cup of sparkling apple cider to "cheers" with.  if you look closely at this picture, we are all toasting with our siblings, except for matthew, because jeffrey didn't get any cider.  you can almost see the thought bubble above jeffrey's head: "hey, where's my drink?"  every year, mommy and daddy tell auntie audrey and uncle alan how brave they are to provide sugary drinks to a bunch of amped-up toddlers who are sitting on their light-colored couch.  but no accidents yet!
this is the best way ring in the new year — with our family and my BFFs.  and by the way, there's actually room for more kids on the couch if matthew, logan, or edison decide they want a little sister.  just saying.
happy new year!  bring on 2015!
Tags : new year | add comments