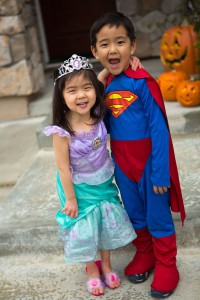 it's that time of year again, when sienna and i dress up in costumes and go around the neighborhood collecting candy for daddy.  yup, halloween!  because "frozen" has been so popular this year (and apparently, elsa costumes have been flying off the shelves), this year has become known as the year of the elsa.   but no elsa for us.  if you ask sienna, she'll tell you that she dressed up as a mermaid.  but actually, she was ariel the princess, not the mermaid.  no seashell bras for her!  and guess what i dressed up as.  yup.  superman.  for the 4th year in a row.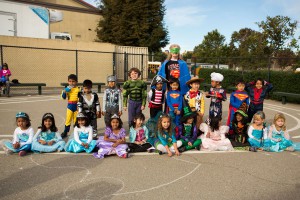 before we got to trick-or-treating, sienna and i had halloween celebrations and parades at our schools.  mine was yesterday.  out of the 11 girls in my class, there were 5 elsas.  no surprise there.  but what was surprising was that all of their costumes were different!  we played fun games and did some spooktacular crafts, then my classroom got to be line leaders in the parade around the whole school!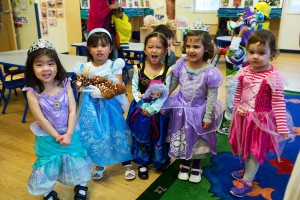 sienna's halloween parade was today.  since it was raining, they just walked around the hallways in her preschool.  boring.  but guess what.  of all the princesses in siennas classroom, there wasn't a single elsa.  that was shocking.
matthew braved friday night rush hour traffic to join us for dinner and trick-or-treating again.  it rained all day, so we were worried that our candy-collecting plans would be ruined, but there was a break in the weather right when we were ready to head out.  perfect timing!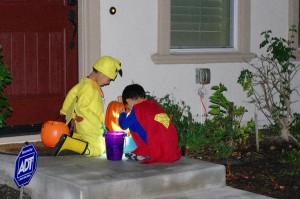 last year, we really enjoyed knocking on doors and ringing doorbells — we were actually disappointed when we came across a house with a candy bowl sitting outside.  but this year was all about the candy bowls.  it was so exciting to get candy without even having to do anything!  it made it much easier to pick the ones that daddy likes rather than taking our chances with whatever got dropped into our buckets.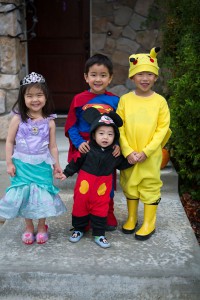 sienna, matthew, and i had so much fun trick-or-treating.  jeffrey came with us too, but auntie audrey carried him so he didn't get any candy.  sienna is much faster now, so we were able to venture farther than we did last year.  but when we hit the houses around the park, sienna tripped on a crack in the sidewalk and sprawled out flat on her face.  her candy went flying everywhere.  she cried and cried and mommy suggested that we turn around and head home.  but all sienna really cared about was putting her tiara back on.  once she did that, she was fine.  so we carried on. 🙂
halloween is so much fun and we are already looking forward to trick-or-treating again!  i've already started thinking about what i want to dress up as.  maybe optimus prime — not sure yet.  but this is definitely my last year being superman.  it's the end of an era.
Tags : halloween | add comments