we did a lot of stuff today.  a LOT.  just like every saturday, we started the day bright and early with soccer practice and a match.  then we all headed across the bay to jeffrey's dol.  mommy and sienna drove separately from daddy and me because we were going to separate places afterwards.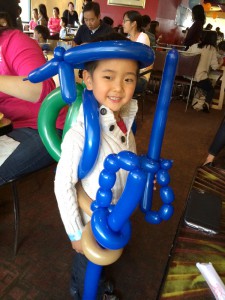 the first thing we did when we arrived at jeffrey's party was guess which object he would pick during the doljabee.  i knew what to do because matthew (jeffrey's big brother) also had a dol when he turned one.  i predicted that jeffrey would pick the baseball, 'cuz that's what i would pick.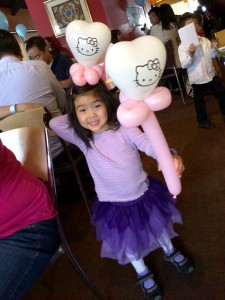 just like at matthew's party there was a balloon guy at this party.  actually, there were two.  the balloon creations that they were making were so elaborate that we needed two of them to keep up with the demand!  check us out!  sienna got a hello kitty headband and wand.  on the suggestion of the balloon guy, i agreed to a teenage mutant ninja turtle outfit.  it came complete with a turtle shell, headband, and TWO swords.  i didn't really know what the teenage mutant ninja turtles were before today, but i am definitely a fan now!  i think these guys might be the best balloon artists we've ever seen.
we enjoyed the buffet at jeffrey's party, too.  buffets are the best because we get to sample a lot of different things.  we love samples — especially when they are desserts.  mommy even let us try some cotton candy.  sienna and i had one pull each, and then mommy set the rest aside.  and then mommy turned to talk to auntie ann for a couple of minutes, and when she looked back, there was no more cotton candy.  guess who at the WHOLE THING.  i'll give you a hint — her name rhyme with "bienna" and starts with an "s".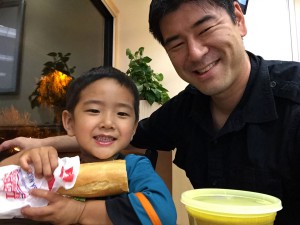 daddy and i had to leave jeffrey's party before the doljabee because we had a sharks game to get to.  i love hockey, and the sharks are the best!  i especially love going to sharks games with daddy because we always get to eat yummy junk food like pizza and giant pretzels.  today, we got to go to lee's sandwiches!  bahn mi is so yummy and lee's is the best.  one of the things i miss most about our old house was that there were 6 lee's within 5 miles.  the closest lee's to our new house is ~30 mins away.  anyway, dinner was delicious!  oh, and we beat the ducks, too. 🙂
mommy and sienna stayed for jeffrey's doljabee, and guess what.  he picked the baseball.  i was right!  i guess that means that he is going to grow up to be an athlete.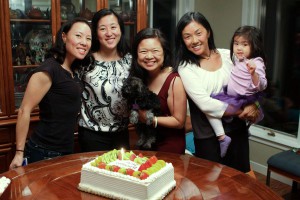 after that they went to auntie mimi's new house for her house blessing and birthday party.  auntie mimi never actually gave them an address and she never answered her phone.  but based on landmarks that auntie mimi had referenced and house photos that mommy had seen, they found the party.  once they got there, sienna got to play air hockey on a mini table and eat lots of yummy food including s'mores pudding and chinese cake.
the next morning, sienna and i compared notes about our evening activities to see who had the better night.  i rubbed my lee's sandwich in her face, but she trumped that with s'mores pudding and chinese cake.  i think sienna might have won this round, but i didn't tell her that.
Tags : sporting events | add comments