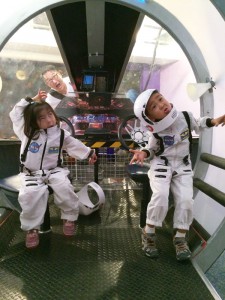 sienna and i never forgot about the first time we went to habitot, and we had been looking forward to going back.  our favorite thing about that place was the fire engine.  mommy's favorite was matthew's reaction to painting my hair blue.  that was a year ago.
today, we finally got to go back.  this time, we met up with the lims and the fungs.  we had lunch at a nearby restaurant, then walked over to habitot.  when we first arrived, the first thing we noticed is that the fire engine wasn't there.  we were sooo disappointed.  but that disappointment didn't last long because there was a space shuttle in its place!
sienna and i spent a long time being astronauts and journeying through space.  when we posed  for a photo, we got photobombed by a space alien.  is it just me, or does that alien look just like claire and bella's daddy?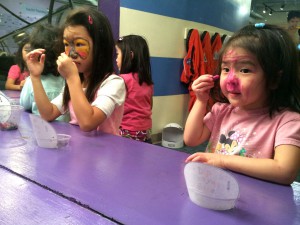 we checked out the rest of the very small place — raked some leaves, delivered some mail — but we didn't paint this time.  i didn't need any streaks in my hair today. 🙂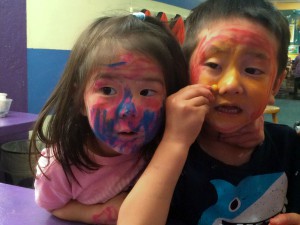 we were pretty much done for the day, until…  sienna spotted claire painting a pretty butterfly on her face.  yes, on her own face.  DIY face painting for kids?  BRILLIANT!  sienna and i got in on that action.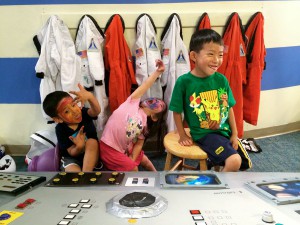 after we finished painting our faces, we continued playing for a little while.  we tried posing for a nice photo with matthew, but c'mon, really?  can you really expect us to pose and smile nicely when our faces looked like this?!
we had a fun time today.  it's kind of far away, so mommy and daddy said that we can't go there all the time, but maybe we can make habitot a once-a-summer habit. 😉
Tags : | 1 comment