mommy has been going to san diego for work a lot lately.  and every time she goes, sienna and i want to go with her.  so mommy told us that next time, we would all go to san diego together.  we picked this weekend for our trip because it was the only weekend we had free all summer.  (although we did have to reschedule some plans with matthew and jeffrey and also miss swim class).
daddy had to work a half day, but sienna and i played hooky from school.  we slept in, ate a leisurely breakfast, and then helped mommy pack for the weekend.  we drove down to daddy's work and picked him up for lunch.  then after a yummy lunch at chez sovan (one of mommy's favorite places to eat in the south bay), we hit the road.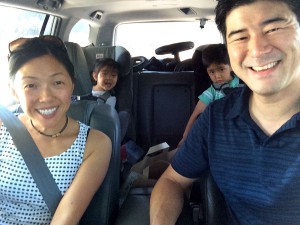 sienna is a great on road trips.  she'll play games and sing songs, but she's also perfectly content singing to herself or just sitting in silence and taking in the scenery as we drive past.  she also naps in the car.  me?  not so much.  i don't like long trips.  mommy and daddy say that i "don't travel well".  i need to be entertained constantly, and even still, i whine and complain.  "why is it taking so long?"  "why does auntie barbara live so far away?"  "how many more minutes?  how about now?  how about now?"  "awww, why aren't we there yet?"  see the photo?  that was taken right after lunch.  we hadn't even left the bay area yet, and i was already pouting.
we left home at around 11:45am, and we finally made it to auntie barbara's house in san diego at around 10:30pm (including stops for a sit-d0wn lunch and dinner, and a couple of quick stops for gas and coffee).  that's ~525 miles of "who am i?", "i spy…", the word game, and silly knock knock jokes that didn't make any sense at all.  our "in-car entertainment" was so good that we barely noticed that we didn't get to hear a single disney song.  but it wasn't good enough to stop me from complaining throughout the entire drive. 😛
Tags : travel | 2 comments