when sienna started independent swim classes (swimming without mommy), she started in the yellow starfish level.  she had a male instructor that she really liked, and she progressed really quickly.  she passed the level the very next week.
when she started in the green dolphin level, she did pretty well at first.  she got through all but the last 2 skills, and then she got stuck.  i know what you're thinking, but it's not because her swim skills had plateaued.  it's because her instructor left and was replaced by a new female instructor.  sienna did not respond well to the new teacher.  she refused to do her skills and was not a good listener.  that teacher only lasted a few weeks (maybe sienna had something to do with that!) and was replaced by another new female instructor.  sienna didn't respond well to her, either.
mommy tried really hard to figure out what the problem was. did sienna not like the teacher? did she need to take a break from swim lessons? was the issue that she wanted to do the skills the other kids in her class were doing (two levels below her)? what was going on?
then one day, a male instructor (whose students no-showed) came over to help out with sienna's class.  sienna wasn't listening to her female teacher, but as soon as the male instructor stepped in, sienna started swimming like a fish.  what was that all about?  sienna said that she only liked boys, not girls.  i'm pretty sure she was only talking about swim instructors, but we're all afraid that this is a sign of things to come.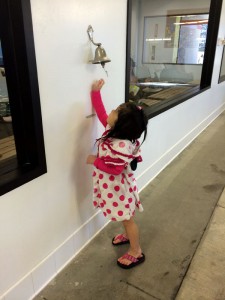 so mommy put sienna on the wait list for other classes with male teachers, but in the mean time, we tried to make the best of it.  fortunately, we've had some fun activities planned for after swim class these past few weeks, and mommy and daddy are not above bribery.  (e.g. "sienna, you need to listen to your teacher if you want to go to the birthday party after swim class.")  that worked.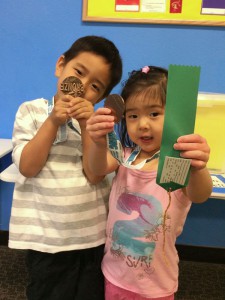 it took her 4 months, but sienna finally passed the level (and got to ring the bell!).  she is now a blue jellyfish like me.  and more importantly, she is now an intermediate swimmer!  that means that she is going to start working on real swimming — arm strokes and side breathing and everything.
less than a week ago, our swim school started awarding medals to students for passing the the major categories (beginner, intermediate, advanced), so sienna got one.  mommy was able to negotiate a medal for me, too.  it's a good thing, because it wouldn't have been fair if i didn't get one just because i passed before sienna. i'm gonna hang this medal with the rest of them. 😛
Tags : | add comments