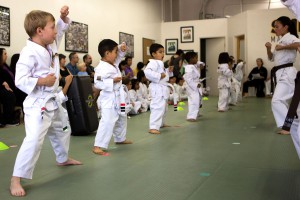 i was invited to test for a belt promotion today.  since it was my first belt test, i didn't know what to expect.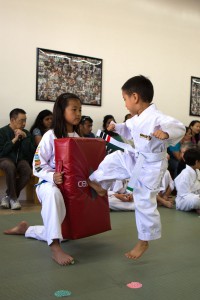 today was a special belt test day.  it wasn't just a regular class.  apparently, all the junior cubs (age 6 and under), white belt kids (age 7-12), and beginner kids (age 7-12) all test on the same day.  each group tested separately.  junior cubs went first.  we had to demonstrate a bunch of skills including a variety of stances, upward blocks, punches, and flying side kicks.  after we finished, the white belt kids were tested, and then the beginner kids.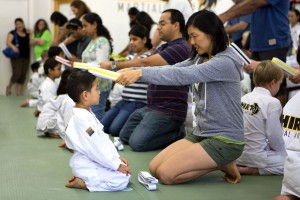 after we all finished testing, we took our places on the mat and we were presented with our new belts.  then we each invited one parent to the mat to participate in the belt promotion ceremony.  we took off our old belts, then master shir stood at the front and said a few words (i have zero recollection of what she said).  there was a loud kiai, and then our parents tied our next belts on us.
and now i'm a "yellow belt"!  (actually, i'm still a white belt, but now i have a yellow stripe.  i don't think i'm even eligible to get a real yellow belt until i'm 7 years old.)  luckily, my dojo is just a few doors down from blush, so we celebrated with froyo.  what a great afternoon. 🙂
Tags : | add comments