as usual, the sharks were strong during the regular season.  and as usual, the sharks had home ice advantage in round 1 of the playoffs.  but when they went up 3-0 in the series against the kings, it was a good sign that this post-season was going to be different than usual — this might actually be the year that we make it to the stanley cup finals!
but then, game 4 came around and the series went to 3-1.  and then game 5 came around and it was 3-2.  and while we were watching game 6, i made up a cheer.
it didn't work.  i don't know what the heck sienna was doing — making faces at the kings players, i guess — but that didn't work either.
the kings tied up the series 3-3. we were disappointed that the sharks lost, but then i heard mommy say "i guess we're going to game 7 on wednesday", and  i got so excited! yay, we get to go to a sharks game! mommy quickly corrected me and explained that when she said "we", she was talking about her and daddy. i protested and whined about it. sienna joined in too. but to no avail.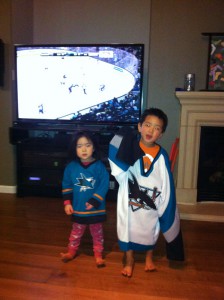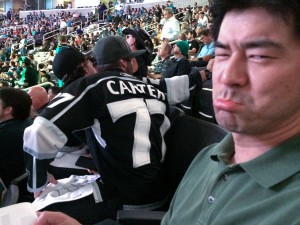 mommy and daddy went to game 7 and left us at home to watch it on TV. at least we didn't have to sit next to a bunch of kings fans like daddy did. sienna and i cheered for the sharks, and we even wore our team gear. sienna wore my jersey (which actually fits her perfectly) and i wore mommy's (which she forgot to bring). we did the "lose LA" cheer that i made up, too. but none of it helped. the sharks blew their 3-0 series lead and let the sharks take the series.
i keep asking when the next sharks game is going to be. mommy and daddy tell me that the sharks are taking a break to rest, so we won't get to see them play again until september. what do they need to rest for? they couldn't have been playing all that hard when they gave away their 3-0 lead! it's tough being a sharks fan.
Tags : sporting events, video | add comments