mommy and daddy are always doing things to empower me and sienna to be independent.
like buying the 5 step stools for our house.  yes, 5.  regular sized step stools for me, and taller ones for sienna.  'cuz she's short.  we can both brush our teeth, wash our hands, and help out in the kitchen.
like, moving all my clothes to the bottom 3 drawers of my chest of drawers.  i can reach all my clothes and get dressed by myself.  sienna's dresser is only 3 drawers tall, so she can reach all of her clothes and get dressed on her own, too.  sometimes, that's not a very good idea.  like, the other day, she put on the pink supergirl halloween costume that she wore when she was 1 year old.  (i have no idea how she fit into that.)  it's a onesie with an attached skirt.  over that, she wore a green plaid skirt, and then she put on purple leggings with white polka dots.  usually, mommy and daddy let her wear whatever crazy (embarrassing) outfit that she assembles, that that's where mommy drew the line.  she made sienna change into something… uh… less costumey?
and today, daddy installed a kid-height hanging rod in our closet.  now, sienna and i can choose which jacket we want to wear each day.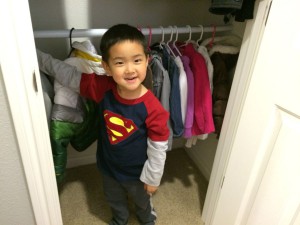 so yes, all of these things allow sienna and me to do things for ourselves.  but i'm on to them.  they don't do these things for us.  they do it for themselves.
all those step stools?  those are there so that mommy and daddy don't have to drop everything they're doing to help us go potty.  or wash our hands.  or get ready for bed.
the strategic placement of our clothes?  that was so that they can sleep an extra 10 minutes while sienna and i get ourselves dressed in the morning.
the kid-friendly closet?  that's there so that mommy and daddy don't have to go through the morning routine of "here's your jacket."  "i don't want that jacket."  "okay how about this jacket?"  "no, not that one, either"  also when we get home, sienna and i can now hang up our own jackets instead of throwing them on the closet floor.
see what i mean?  everyone thinks that they're teaching me and sienna to be independent from them, but they're actually gaining their independence from us.
Tags : | 1 comment