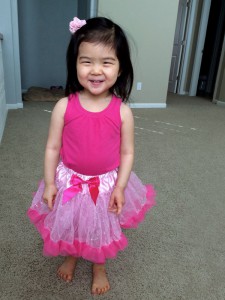 today is new year's eve.  i don't think sienna really understands what that means, but she knew enough to put on a special party skirt when she got dressed this morning.  i know what it means, though.  today is the last day of 2013 and that means we get to do a countdown tonight.  tomorrow when we wake up, it will be 2014!  i have to remember to tell mommy to put up our new calendar.  (uncle randy makes tanaka family calendars for all of us every year.  they include photos from the past year as well as some really really old photos of daddy, uncle randy and auntie barbara from when they were little kids.)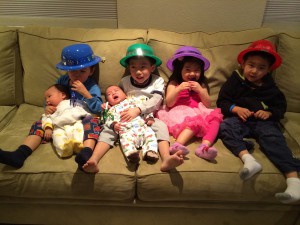 just like last year, we went to matthew's house for a NYNYE party.  but this year, two new guests showed up.  look!  both edison and matthew have new baby brothers.
we played, ate dinner, played some more, then at midnight EST, we had our countdown.  we blew our party horns, toasted with organic sparkling cider (nobody spilled!), then went back to playing.
2013 was a big year for us.  we moved to san ramon! and gung-gung officially moved with us.
sienna and i found a school we love near our new house, and we are both going to school full-time.  i am in pre-K.
we found a new gym class and swim school near our new house.  i continued playing soccer and dabbled in basketball and tennis.
we took our first trip to the snow and spent the weekend in tahoe with the yamamotos and tais.
we celebrated sienna's 2nd birthday party at disneyland and visited california adventure for the first time.  she also had a "summer soiree" (non-birthday party) at the little gym.
we went on our annual beach weekend to santa cruz with the nishimotos and tungs.
i had an awesome fire truck 4th birthday party at our new house with a real life fire truck!
we made a lot of great new memories with our families and friends.
we are looking forward to what 2014 has in store. 🙂
Tags : new year | add comments