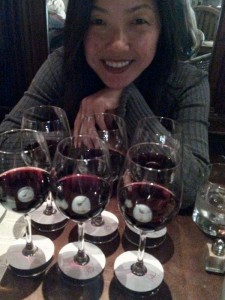 all day today, everyone was saying that it was mommy's birthday.  when sienna and i crawled into mommy's and daddy's bed this morning, daddy whispered to us that it was mommy's birthday.  sienna wished mommy a happy birthday.  i said "no it's not".  when we went downstairs, gung-gung wished mommy a happy birthday.  i told him that it wasn't mommy's birthday — her birthday is tomorrow.  and then when i went with mommy to uncle henry's house to do a puppy placement, he wished mommy a happy birthday, too.  "it's NOT mommy's birthday!" i told him.  "mommy's birthday is tomorrow!"
i know mommy's birthday is november 30, but all day, i thought that today was the 29th.  by the time evening rolled around, i realized my mistake.  and i finally wished mommy a happy birthday.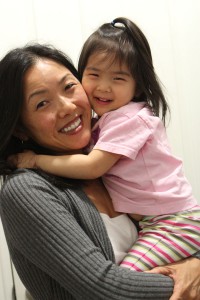 daddy has never taken mommy out on a date night for her birthday before — at least not in the past 4 years, which is forever, as far as i'm concerned.  we usually just spend family time together, cuz' what better gift is there than quality time with me? 😀  but this year, auntie mimi scheduled a playdate with sienna and me, so daddy and mommy were free to go out by themselves.  daddy told mommy that the restaurant that he was going to take her to would be determined by her level of hawtness.  and then he looked at her and told her that she was headed for taco bell.  taco bell???  aaack!  mommy immediately went upstairs to change.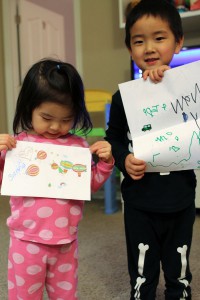 when mommy came back down, she was wearing nice clothes, and get this… she not only brushed her hair, but she curled it.  CURLED it!  i don't think mommy has curled her hair in the whole time that i've been alive.  no joke.  but that's not all.  mommy then put on make up.  auntie mimi took out her camera to capture photo evidence that mommy actually owns a curling iron and make up.  sienna and i both insisted on taking photos with her.  (sienna's came out cute, but my eyes are closed in my photo. :()  but wait, there's more.  mommy also slipped on some real shoes.  you KNOW it's a special occasion when that happens, because mommy almost always wears flip flops — even in the snow!  i guess she wanted to make extra sure that she didn't end up at taco bell for her birthday dinner.  (she didn't.)
anyway, auntie mimi, gung-gung, sienna and i had a playdate while mommy and daddy were out.  we mostly just ate dinner and made birthday cards for mommy, so there wasn't all that much playing.  but we had a fun time together.  sienna and i always love hanging out with auntie mimi.  mommy and daddy said that they had a nice night out, but i bet they really missed us and wished that they were home with us, instead.
Tags : | 3 comments