in our new neighborhood, there are a lot of families and a lot of kids.  so we expected that on halloween, porches would be lit and the streets would be buzzing with hundreds of kids.  we decorated our house, carved our pumpkins (actually sienna just blinged hers out), and we bought 3 giant bags of candy from costco.  we were ready for the mad rush!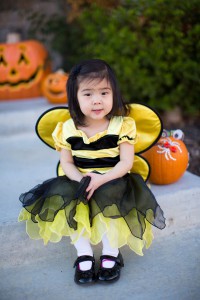 our first trick-or-treater of the night was a super gangnam style chicken on rollerskates.  that's what he called himself.  i was going to do my job and give him 2 pieces of candy, but his costume made mommy laugh out loud, so she told him that he could have as much candy as he could grab with one hand.  she regretted it as soon as she saw his ginomrous hand and long fingers reach into our candy bowl.  lesson learned.  mommy also regretted not taking a photo of the super gangnam style chicken on rollerskates.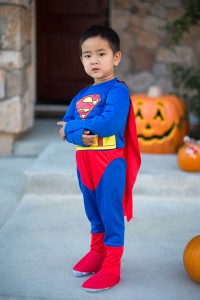 anyway, our favorite halloween tradition is going trick-or-treating with matthew.  in his neighborhood, people don't really get into halloween, so he comes to ours.  but now that we live in san ramon, it's a long drive to get all the way up here on a weeknight, especially with traffic and all.  so by the time he arrived and we all scarfed down our dinners and changed into our costumes, we didn't hit the streets until almost 8:00pm.
matthew was chase (the police bot), sienna was a bumblebee, and i was superman (for the 3rd year in a row).  mommy suggested that i dress up as bumblebee, the rescue bot.  then i would have matched with matthew and sienna.  clever, huh?  but i didn't go for it.  i wanted to be superman.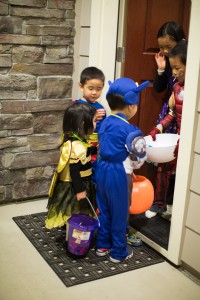 matthew and i took turns ringing doorbells (last year we were too short to reach the doorbells so we had to knock), and we all said "trick-or-treat" together.  as soon as we got our candy, matthew and i thanked the candy-givers and ran off to the next house.  (i ran so fast that my cape kept coming off.  mommy wanted me to leave it off, but i insisted on putting it back on every time because i wanted to fly.)  but not sienna.  sienna hung around the porch and just kept looking at the candy-givers.  usually, they gave her more candy because they didn't want to close their doors on a cute little bumble bee.  i think it was all part of her plan.  mommy would eventually coax her down from the doorstep, then sienna would say "my friends are leaving me!" and then she'd run after me and matthew.  all night, mommy was yelling, "wait for your sister!"  she was totally holding us back.
in our new neighborhood, there were more elaborate halloween decorations than in our old one — haunted mazes with scary music, flying ghosts, and candy bowls with skeleton hands that grab you.  (lemme tell you, sienna is brave.)  in our old neighborhood, some houses didn't get into halloween, and that was okay.  they left their porch lights off, so we just skipped them.  but the weird thing about our new neighborhood is that there were a lot of houses that were all dressed up for halloween, but they just left a bowl of candy on the porch with a sign that said "please take 1" (or in some cases, 3 or 4).  we're not sure if that's because lots of people go to house parties (we did run across a bunch of those), if families/neighbors all like to go trick-or-treating together (like cousin zoey and her entire cul-de-sac), or if it's because we got a late start and those houses were done for the night.  the candy bowls are a nice thought, but not fun for us.  we don't care about candy, we just want to ring doorbells!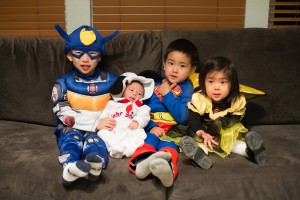 we hit 3 cul-de-sacs this year.  we could have done more, but sienna was too slow.  i hope jeffrey (matthew's baby brother) can go trick-or-treating with sienna next year so that matthew and i can run off by ourselves.  back at home, daddy greeted a lot of trick-or-treaters, but not nearly as many as we expected.  (maybe 75-100?)  we still have an entire unopened bag of candy!
here are some pictures of our halloween fun (including a few from our parade at school).  i can't wait for halloween to come next year.  i will probably be superman.  again.  happy halloween everyone!
Tags : halloween | add comments