i had been looking forward to my fire truck birthday party so such a long time. i wanted to invite everyone from my school in both the owls class (my current class) and the eagles class (the pre-K class that all my friends moved up to after the summer). mommy said we couldn't because our house isn't big enough. so we made a deal. we'd have a home party for my friends and family, and a school party for my school friends. TWO parties!
when i woke up on saturday morning, i told mommy that i was going to tell my friends to give me presents when they came over. mommy said that wasn't nice and that i shouldn't say that. but i wanted presents!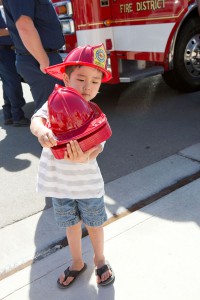 well, everyone started arriving and we all started playing. some friends played inside with my train table and other toys. and some friends played golf and basketball out in the backyard. and then all of a sudden, we heard a big truck outside. we all ran out and saw the fire truck! a real life fire truck with real life on-duty fire fighters! what's a fire truck party without a real life fire truck, right?
i passed out fire hats to all my friends, and we all got to climb into the fire truck and check out the control panel with all the gauges and levers and knobs. it was super awesome for about 20 minutes, and then my friends and i were over it. we went back to playing. other friends were still trickling in, though, so the fire fighters stayed until everyone had a chance to check out the fire truck and take lots of photos (and the grown ups got to ask questions about the recent morgan territory fire and the color coding of fire hydrants and other boring stuff). some of the neighborhood kids came out and joined us, too.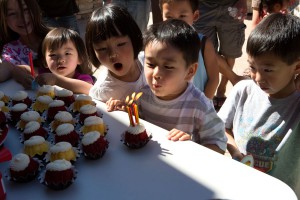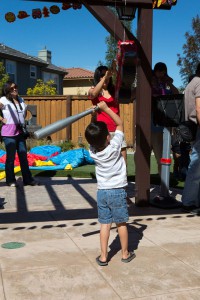 after the firemen left, daddy grilled up a bunch of food for us.  then we put up the jumpy house, played some more, had cake, and then it was time for the pinata. even though mommy had stabbed a bunch of holes all over the pinata, it was impossible for a bunch of 2-4 year olds to break with a plastic bat. we had fun trying though.  at first i was swinging the bat properly, but that didn't work.  so i tried swinging it like a battleaxe, and that didn't work either.  eventually, mommy helped by opening the holes bigger, and then i was finally able to bust it open.  all the chocolates fell out and everyone rushed to grab them, but they were melted and squishy. ewww. so my friends didn't really take any of the candies. mommy put them in the refrigerator, and now they're fine. more for daddy. (note to self: don't put chocolate candy in a pinata when you're having an outdoor party on a sunny day.)
unprompted, i walked around thanking everyone for coming to my party (which really charmed my aunties). i didn't ask anyone to give me presents, but i got lots of presents anyway. how cool is that? i get to open one present per day. hmmm… which one should i pick to open tonight? 😀
Tags : birthday party | add comments