Posted by
kyden
on
Thursday Aug 29, 2013
Under
sienna
a few days ago, sienna got bitten on her hand.  of course, it wasn't koda.  it wasn't even an animal or an insect.  she was bitten by a boy in her class!
don't worry, she wasn't hurt — the bite didn't break her skin or even leave a mark — but she was upset about it.  as soon as we picked her up from her classroom, she told mommy that she got an owie and she demonstrated how she was bitten.  and of course, she ratted out the "friend" that bit her.
we have lots of friends that have been bitten by other kids before.  most of their parents shrug it off like it's no big deal because it's "developmentally appropriate" and apparently very common.  but i have never been bitten, so it was a shock to all of us when it happened to sienna.  mommy and daddy did not take it lightly.
the next day, mommy talked with the school directors about the policy for dealing with behavioral issues.  they explained that they had already scheduled a conference with the biter's parents and that they would develop a joint plan to curb the aggressive behavior.  they were also very sympathetic and apologetic about what happened.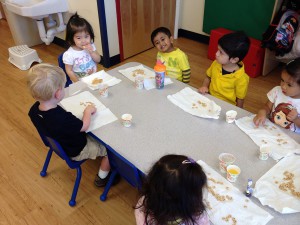 when daddy dropped sienna off at school today, the rest of her class was eating their morning snack.  the biter was sitting at the table with an empty chair on either side of him, separating him from the rest of the kids.  and then when mommy picked sienna up after school, the biter was sitting by himself while the other kids were on the other side of the classroom engaged in a different activity.  coincidence?  or does he always play by himself?  or is this part of the "joint plan"?
mommy and daddy are glad that the school is being proactive about the issue, but mommy is concerned.  for one thing, it doesn't seem like the kid was being aggressive.  he wasn't lashing out at her — the bite was unprovoked.  sienna was just standing next to the boy, and he bit her for no apparent reason.  he must not have bitten her hard since he didn't leave any marks.  maybe he was just trying to get her attention?  but more importantly, mommy says that dogs who don't play well with others need more socialization, not less.  isolating them only aggravates the problem and leads to more aggressive behavior.  i bet it's the same with kids.  is this how serial killers are born?  i dunno.  i just hope that sienna doesn't get rabies.
Tags : school | add comments