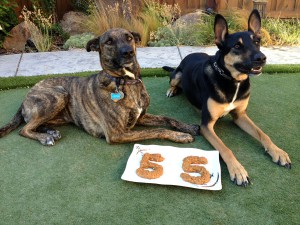 koda turned 5 today.  and like usual, he planned to celebrate with his sister, kiara.
when mommy picked me and sienna up from school, we headed straight home to make some special treats for the dogs.  i told mommy that koda was so excited.  i didn't really know that he was excited, but how can you not be when it's your birthday?
the birthday treats that mommy made for the dogs were made from mostly organic ingredients because that's what we happened to have on hand.  i even got to try some.  they were pretty tasty.  uncle henry brought over some fancy cookies for the dogs and zachary's pizza for us!
koda really liked his treat.  i wasn't sure if kiara liked hers as much because she didn't gobble it up as fast as koda did.  but sienna and i sure loved our pizza!
mommy says that koda and kiara are now middle-aged, but still act like crazy puppies.  i think mommy is confused.  they are not middle-aged, they are only 5.  happy birthday, dogs!
Tags : koda | add comments