after swim class, we picked up lunch, went to grandma's house to eat it, then headed downtown (san jose) to see elmo.  i thought it was silly that we were going to san jose to see elmo, because he lives on sesame street.  but mommy explained to me that he comes to visit san jose once a year.  i get it.
we always go see sesame street shows with matthew, and this was our third time.  (sienna's second).  this year, we got there a little early and saw ernie, bert, and cookie monster putting on a pre-show performance in the hallway!  guess who paused to high-five sienna during the song? 🙂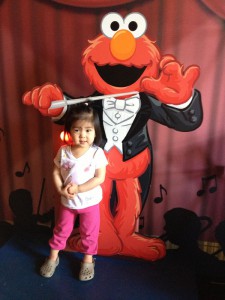 when i went to give cookie monster a high-five, daddy said "cookie monster is my favorite!" i said that elmo is my favorite. i hope i didn't hurt cookie's feelings.
we made it to our seats, and edison joined us there. just like last time, we got seats up front near the stage, and right on the aisle. that way, we would definitely get to meet elmo and his friends when they came down off the stage to dance with the kids in the audience.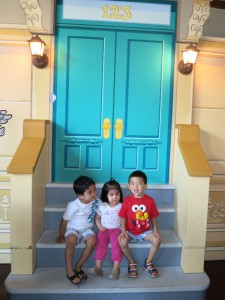 this year, the show was called "can't stop singing".  elmo got a hold of abby's magic wand and cast a spell on all his friends.  everyone was singing all the time and they couldn't talk!  abby spent the whole show looking for her wand.  i kept telling her that elmo had it, but she wasn't listening to me. we kept waiting for the sesame street friends to come down off the stage and dance with us. we waited and waited, but they never came.  we got gypped.
we all agreed that we didn't enjoy this show as much as last year. within the first 20 minutes, i asked mommy "why is it not over yet?" sienna was so unimpressed that she slept through the whole thing. maybe we were just tired (no naps) and hot (it was like a sauna inside the theater — mommy was worried that elmo and friends would pass out under the hot stage lights). i'm glad we went, but i'm not sure if we'll be going again next year.
Tags : video | add comments