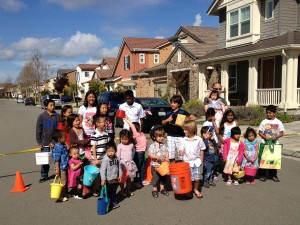 we haven't moved into our new house yet, but we crashed a egg hunt and brunch in our new neighborhood.  every year on easter, they close off the cul de sac, and every family scatters dozens of eggs in their front yards.  most are really easy to find (and get), but some are stashed in hard-to-reach places like in trees, on top of big trucks, or hanging from a second story balcony.  in addition to the hundreds of regular eggs, there are 10 golden eggs hidden in super secret hiding places that are harder to find.  last easter, only 6 of the 10 eggs were found.  the other 4 were discovered throughout the summer, and one of them was just found a couple of weeks ago!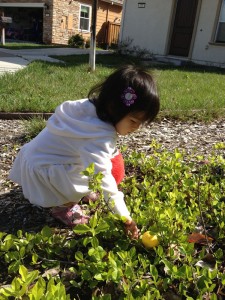 when it was time for the egg hunt, all of us kids lined up at one end of the street.  sienna and i were a little intimidated, especially by the kid holding the industrial-sized pail and the one wearing a helmet.  we didn't realize that egg hunting was a contact sport.  when we got the signal to go, all of the kids sprinted off to collect eggs.  there was special area roped off for little kids under 3, so don't worry — sienna didn't get trampled.  we found so many eggs that our baskets were overflowing.  i even found a golden egg (with mommy's help) and got to trade it in for a special prize!  i picked a giant bubble wand.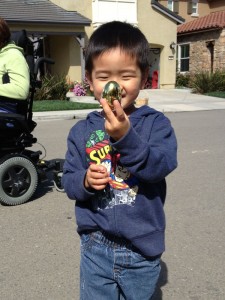 after all the eggs were found (hopefully), there was a potluck brunch in the middle of the cul de sac.  two of the girls even brought out a platform and did a dance performance for us 🙂  i sat and ate with mommy and daddy while sienna wandered off and mingled with the boys.  no joke.  at one point, we lost track of her.  it turned out that one of the boys and his friends had raided his big brother's egg stash, and sienna had gotten in on that action.  she was sitting in one of the neighbor's garage with a bunch of older boys.  i hope this is not a sign of things to come.
sienna and i had so much fun that we asked to go on another egg hunt after brunch.  mommy and daddy said we had to wait until next year.  i can't wait until next easter!  but in the meantime, i hear that there are lots of other neighborhood parties to look forward to.
everybody asks us why we are moving so far away.  well, this is why we're moving.  yes, the schools are fantastic.  yes, the neighborhood is very safe and family-friendly.  yes, we have family in the area.  but it's this kind of community environment that mommy and daddy look forward to us growing up in.
happy easter, everyone!
Tags : easter | 2 comments