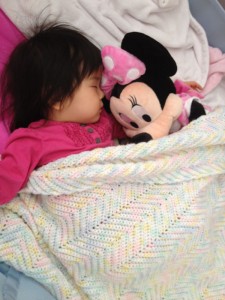 it's been awhile since i've given a sleep update.  sienna is sleeping pretty well on most nights.  she goes to bed around 9:00pm.  since she is not nursing at nighttime anymore, mommy doesn't always have to be the one to put her to bed.  as long as she has minnie mouse and her two blankets, she's fine.
sienna wakes up around 6:00am every day.  mommy gets sienna out of bed, brings her into her bed, and then nurses her.  that used to be enough to get sienna to go back to sleep for a little while, but not anymore.  i think that mommy isn't making much milk these days, so there isn't enough to fill sienna's tummy.  mommy can sometimes stall sienna for about 30 minutes, but after that, sienna insists on going downstairs to eat breakfast.
i used to wake up at 6:00am every morning, too.  but now, i can sleep 'til 7:30 or 8:30am.  mommy is really looking forward to the day when sienna can sleep in that late because that means she will get to sleep in, too!
i am a really good sleeper.  at nighttime, i don't need someone to stay with me until i fall asleep anymore.  i haven't needed that for a few months, actually.  mommy or daddy can leave my room while i'm still wide awake, and i will just lie in bed until i fall asleep — as long as they leave my door open.  on some afternoons, i will even go up to my room by myself (reluctantly), and lay down and take a nap.
mommy can't wait until sienna is as good of a sleeper as i am.  when i was 2 1/4 years old, i was sleeping in until 7:00am.  but maybe that's because i was going to sleep at 10:00pm.  i think i will try to get sienna to stay up an extra hour with me.  maybe that will shift her sleep schedule and let everyone start getting more sleep around here.
Tags : sleep | 1 comment