one thing i forgot to mention about sienna's 18-month check up is her teeth. the doctor confirmed that she has all her teeth except for her 2-year molars. that means she has 16 teeth. when she was 11 months old, she only had 8. so i guess the other 8 came in sometime during the past 7 months when i wasn't paying attention.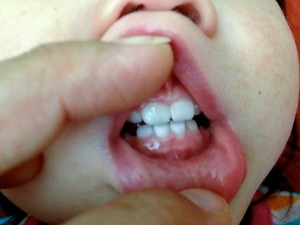 anyway, sienna's teeth are enormous. mine are normal-sized. (can you tell which teeth and mine and which ones are sienna's?) well, mine used to be normal-sized, but they are shrinking. apparently, i grind my teeth. mommy is a little freaked out about it because she thinks that in a few more years, my teeth will be ground down to my gum line. but everyone says that there's nothing that can (or should) be done about it at this point. and by "everyone", i mean the internet. and my dentist.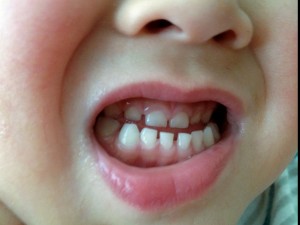 about 30% of children grind their teeth. it's called bruxism. it can be caused by stress, anxiety, an abnormal bite, or a bunch of other things. most kids stop grinding before their permanent teeth grow in, so that's why nothing needs to be done about it right now. but once my adult teeth are in, if i'm still grinding them, then we have a problem. i guess i'll have to wear a guard or something to protect my teeth when i sleep at night. or better yet, i'll start doing yoga and meditation to reduce the stress in my life. it's tough being 3.
Tags : | 3 comments