today is a special day.  it's the last day of the year.  i understand days and weeks and months, but i'm a little fuzzy on the concept of years, so i don't really get it.  but it seemed like a big deal to everyone, so i just went with it.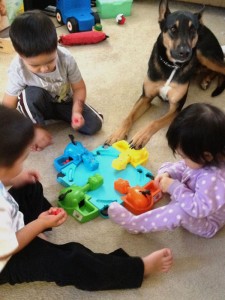 first, kai-kai came over to hang out during the day.  we played board games (sesame street chutes and ladders and hungry hungry hippo), ate lunch, and then played outside in the backyard.  it's fun having friends my age to play with.  i like playing with sienna too, but she's not very good at board games.  we let her play hungry hungry hippo with us because we needed more people.  we even let koda play.  koda's not very good either.  kai-kai and i always got the most marbles.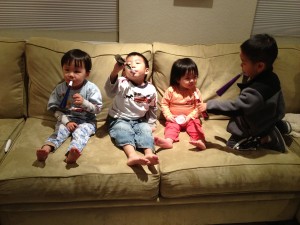 in the evening, we went to matthew's house for a NYNYE party.  that's not a typo.  it was a new york new year's eve party — celebrated on eastern standard time!  we had dinner, we played with matthew's bazillion toys all evening long, and then at midnight EST, it was time.  we had our countdown, blew our party horns, and toasted with apple cider.  best kiddie new year's party idea ever!
2012 was another good year for us.
sienna and i continued swimming and gymming, and i started soccer classes.
we took a family trip to san diego (with grandma and grandpa) where mommy, daddy, auntie barbara, and uncle randy ran the rock 'n' roll 1/2 marathon relay.
we went to lake tahoe for a summer beach weekend (with gung-gung, the tungs, and the nishimotos).
we celebrated sienna's 1st birthday party in the park with elmo.
i had an awesome 3rd birthday party at disneyland (and a fun weekend in LA with the wolberts).
we took a family vacation to kauai (with gung-gung and the ang family)!
we made a lot of great new memories with our families and friends.
2012 was pretty great, but there are some exciting changes coming our way in 2013.  stay tuned!
Tags : new year, video | 4 comments