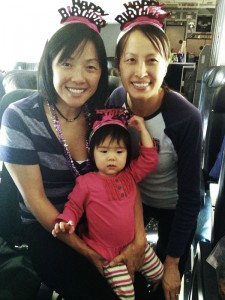 remember how i had a destination birthday party?  mommy did too.  her birthday was today, and we celebrated in hawaii.  well, since we spent 6 hours on the plane, it was really more like we celebrated her birthday on the way to hawaii.  it was our family (including gung-gung), plus isaac, his parents (auntie viki and uncle warren) and and isaac's 3 grandparents all going to kauai together.  that makes 11 of us.  auntie viki brought happy birthday beads for mommy and tiaras for everyone else.  have you ever heard of a party bus?  well, this was a party plane.
i wasn't really in a party mood in the beginning.  mommy thought my ears were bothering me, so she gave me one of sienna's fruit pouches to suck on to help me pop my ears.  i ended up throwing it all up.  the airplane was too bumpy (turbulence).  but after i threw up and the flight smoothed out, i felt much better.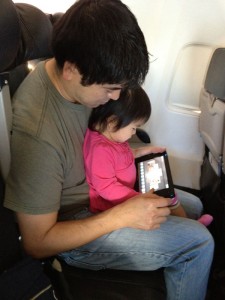 the 6-hour flight went by pretty quickly.  it helped that isaac shared his ipad with me.  we sat next to each other and took turns flinging angry birds.  sienna actually got a free digiplayer.  apparently, they are free to all first class passengers, and someone was nice enough to donate his player to a kid at the back of the plane.  sienna was the lucky recipient.  she didn't actually watch any movies though — she had more fun playing with the ear buds.
this was sienna's first long flight and she did great.  she even laid out across two seats and took a nap!  she paid for 0 seats, but she took up 2.  nice, huh?  sienna was unfazed by the bumpy flight.  i think she even liked it.  when we landed, we hit the ground pretty hard and were jostled around a bit.  most people were gripping onto their armrests, but sienna started laughing and clapping.  she's definitely going to be the adrenaline junkie in the family.
well, we made it to kauai.  more about our trip in the next post(s).
oh, and happy birthday mommy!
Tags : travel | 1 comment