last year, i decided that halloween was my favorite holiday because it was so much fun.  and this year was even better!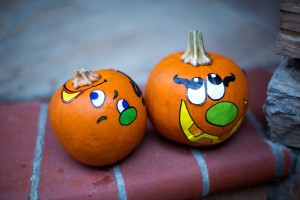 we didn't carve pumpkins this year, but sienna and i decorated pumpkins at madison and kailyn's birthday party.  i think they came out pretty good, don't you?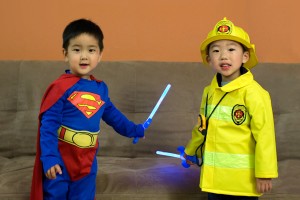 and since we had so much fun last year, matthew came over to go trick-or-treating with me again.  as soon as he arrived, we scarfed down our dinners.  then we rushed to get dressed in our halloween costumes so we could hit the streets before the storm rolled in.  i was superman.  sienna was supergirl.  matthew was a different kind of hero — a firefighter.  with outfits like ours, you'd think we would be protecting the neighborhood, right?  we pillaged it.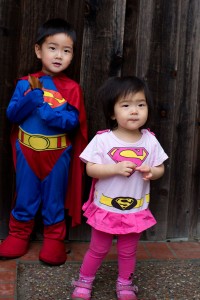 matthew and i are trick-or-treating pros, but it was sienna's first time.  at the first house, matthew and i knocked.  when the people opened the door in their costumes, matthew and i yelled "trick or treat!".  sienna cried.
at the second house, sienna didn't cry, but she didn't really know what to do.  she just stood there and looked bewildered.  it took a few houses for sienna to get into it.
we ended up hitting 4 cul de sacs, including our street.  that's a LOT of houses!  at most of the houses, matthew and i knocked and yelled "trick or treat!"  we held out our treat bags and collected candy, then i grabbed sienna's bucket to make sure she got some, too.  while matthew and i ran off to the next house, sienna stood on the porch and waved.  the people in the houses didn't want to close the door on her, so a lot of them gave her extra candy (hoping that that would get her to turn around and leave).  she's so smart!  why didn't i think of that?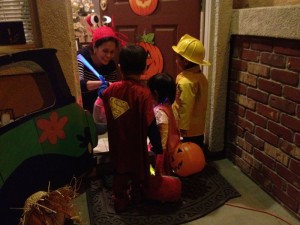 all of our treat bags got so full that uncle alan had to lighten our loads by stuffing his pockets with our candy.  even still, our bags were too heavy, so auntie audrey and uncle alan helped us carry them.  sienna kept dropping her bucket and spilling her candy, but she refused to let anyone help her.  every time mommy tried to take her bucket, sienna protested loudly.
when we got back home, we dumped out all our loot, and the grown ups picked out the candy that they wanted to keep.  (they said something about a halloween parent tax.)  that's okay, we didn't care about the candy.  we just had fun dressing up, knocking on doors, and carrying glow-in-the-dark swords and flashlights.  we poured the rest of the candy into our bin.  there was a LOT of candy.  for the rest of the night, we let trick-or-treaters take as much candy as they could grab with two hands.  and we still have lots leftover!
i had such a fun time trick-or-treating that i can't wait to go again.  matthew, do you want to come over and go trick-or-treating again tomorrow? 😀
Tags : halloween | 3 comments