my buddy zachary had a birthday party today.  his birthday was actually a month ago, but super late celebrations seem to be the in thing these days.  this is the 4th party that i've been to this year where the party was held more than 4 weeks after the kid's actual birthday.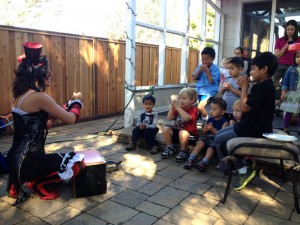 zachary's party was dinosaur themed, so i thought we were going to see real dinosaurs.  we didn't.  instead, there was a magician who put on a show for us!  dada thought the magician looked like mad moxxi from borderlands.  mama didn't know what moxxi looked like, but she thought she was dressed more like an adult entertainer than a child entertainer, especially with that lace bustier.  i don't know about all that, but i thought she was awesome.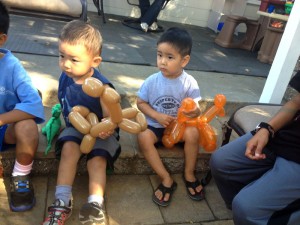 after the magic show, the magician made balloon animals for us.  i wanted a cow.  the magician tried to jedi-mind-trick me into asking for something else, but i insisted.  so she made me a cow.  an orange one.  only, it didn't look like a cow at all.  it looked just like zachary's brown horse.  when i popped my cow just a few minutes later, it really was an accident.  really.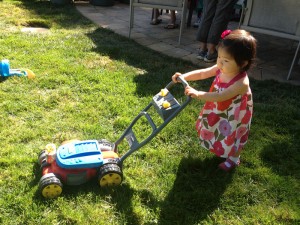 after everyone got a balloon animal, the magician painted on everyone's faces.  i still don't get why people want paint on their faces, so i asked for a train on my arm.  it was such a great train painting — it had tracks and sparkly smoke and shading and everything!
sienna wasn't really into the magic show or balloon twisting or face painting.  while i was doing all that stuff with the big kids, she just hung out and played the mini piano, mowed the lawn, and ate lunch.  she missed out on all the fun!  i can't wait until she's old enough to do cool stuff with me and my friends.  on second thought, maybe i won't want her tagging along.
happy birthday zachary!  cool magic dinosaur party 😉
Tags : friends | add comments