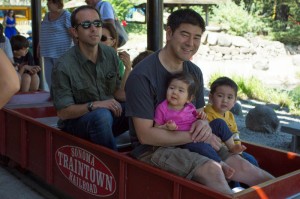 awhile back, matthew and i made plans to go to a safari.  did you know that giraffes and monkeys and antelope live in california?  yup, they live  in santa rosa.  santa rosa is far, so we decided to make a trip of it and spend the weekend in sonoma county.  the drive up to sonoma was about 2 hours.  that included the emergency pit stop we made along the way.  i had to pee and there were no potties in sight, so i got to pee outside at a vineyard!  cool, huh?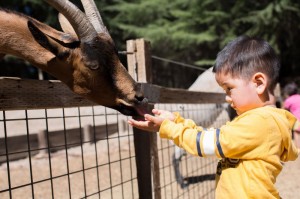 after that, we quickly made it to our first destination:  train town!  train town is a little amusement park with a train ride and about six rides.  there is no entrance fee, but everything requires a ticket.  i guess it's sort of like a carnival, but the grounds are really pretty with lot of trees, a lake, and stuff like that.  as soon as we arrived, we bought tickets for the train ride and waited in line to board.  we went on a 20 minute train ride through tunnels, over bridges, and throughout the wooded grounds.  along the way, we stopped at a miniature town that had a schoolhouse, a jail, and other little shops.  there was also a little farm where we got to see (and feed) rabbits, chickens, goats, and even a llama!  that was the coolest train ride i've ever been on.
after we got off the train, we walked around the park to check out the other rides.  there was a carousel, some kiddie planes, and a few others — none of them looked interesting.  toward the back of the park there were these swings that go really high and really fast.  "kyden don't like swings."  we also saw a dragon sitting on tracks — just like train tracks!  so dada ran back to the entrance to buy more tickets and then we got in line.  one of the interesting things about train town is that there is only one ride operator for every 2-3 rides (depending on how busy it is).  mama said that train town is like the mom & pop version of gilroy gardens.  so just when it was our turn to ride the dragon train coaster, the ride operator left to run the swing ride.  we waited for the swing ride to finish, and then we finally got on the dragon.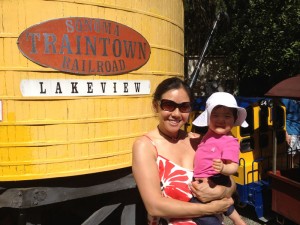 mama tried to make a video of us on my first ever roller coaster ride, but the ride was so bumpy with sharp twists and turns and drops that mama almost dropped her phone!  i wasn't loving the ride, but i wasn't scared, either.  i mostly just looked around.  (here's the video, if you want to see.)  the girl in the row behind us was screaming and crying like she was being killed, so the ride operator stopped the dragon after just one loop so that she could get off.  when we stopped, i told mama that it was fun.  but i thought the ride was over, so i wanted to get off.  (everyone else stayed on the ride for a few more loops.)  and now, when mama and dada ask me if the dragon ride was fun, i tell them no.
kyden don't like swing.  kyden don't like dragon.  kyden like trains!  we only stayed at train town for two hours, and mama and dada thought that was just the right amount of time to do all the things we wanted to do.  i disagree.  i wanted to stayed all day long and ride the train over and over again.  actually, i want to live at train town — playdates at my house would be the best!
Tags : local hotspots, travel | add comments