i had a couple of rough days recently.  last week, i had a hard time at school.  and over the weekend, i had a freakish flukey potty day.
i started school at the beginning of the month.  i go to school 2 days a week, afternoons only.  on my first day, i cried for 15 minutes when mama dropped me off.  on the second day, i cried for 5 minutes.  and after that, no more crying.  each time i went to school i got more and more comfortable, and miss shawna (my teacher) said that my personality was really starting to show.  i'd been having so much fun that when mama came to pick me up in the evenings, i was always so busy playing (usually cooking in the play kitchen) that i wouldn't want to leave.
so last wednesday, when mama came to pick me up from school, she was shocked and heartbroken to find me sobbing uncontrollably.  miss shawna was holding me, and i was trying to say "kyden needs mama", but i was crying too hard to speak.  i hadn't been crying all afternoon — just for 15 minutes or so.  mama thought something must have happened, like maybe another kid was being mean to me or something like that, but miss shawna assured her that that wasn't the case.  after i finally settled down, i told mama that nothing happened, i just missed her.  i had skipped my nap that day (which i have been doing about 2 times/week), so that explained a lot.  i can get really fussy and emotionally fragile when i don't nap.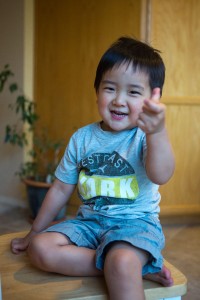 PROBLEM:  crying at school.  SOLUTION:  nap.
so that was last wednesday.  and then on sunday, after having used the potty successfully for almost 3 months, i pooped in my underwear.  on purpose.  and then i did it again.  and again.  that's right, three times.  on purpose.  did i mention that i did it on purpose?
mama and dada were frustrated, but mostly just confused.  they didn't understand what the heck was going on.  and i didn't give them any clues, either.  but then mama found out that one of my friends did the same thing for an entire year.  and the problem was that she was constipated.  i was a little constipated that day, too.  don't you get it?  for one thing, it's easier to push when you're in the asian squat position (my location of choice was under the table) than when you're sitting on the potty concentrating on not falling into the toilet.  and for another thing, who wants to strain and grunt in front of their parents?  how embarrassing, right?  another mystery solved.
PROBLEM:  non-accidental poopie "accidents".  SOLUTION:  more fiber.
so yeah, it was a tough couple of days, but i'm happy to report that i had a good day at school today.  and i haven't had any potty "accidents" since that triple poop sunday.  aside from my no-nap days (which are happening more and more frequently), i think it's safe to say that i'm back on track.  whew!
Tags : potty, school | 5 comments