Posted by
kyden
on
Sunday Apr 29, 2012
Under
sienna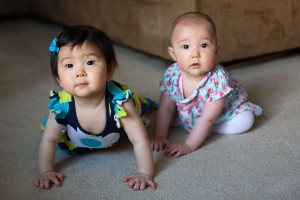 i have been talking to some of my friends about their upcoming birthday parties, and that got me thinking…  sienna is going to turn 1 in a few months.  i should probably throw a birthday party for her, but i don't know who to invite.  she doesn't have many friends.  in fact, sienna only has one friend that she hangs out with.  that's right, one friend — her name is malia.  most of the time, sienna just tags along with me and my friends wherever we go.  i don't really mind, but she's too little to do the things that we want to do.  so, when allie came over to visit today, i was happy that sienna got to make a new friend.
actually, all of us met allie for the first time today.  she is 5 months old, but we hadn't met her before because she lives all the way in southern california.  (remember when i went to socal and had brunch with auntie cindy and uncle tim?  they are allie's parents, and they came to visit us tonight.)  allie is 4 months younger than sienna, but the girls are practically the same size!
allie and sienna were fast friends.  i don't remember playing with other kids very much when i was sienna's age — i mostly just hung out with mama and dada or played with my own toys.  but allie and sienna actually played together really well (with my toys).  they made each other laugh, and they kept reaching out to hug each other or hold hands or something.  girls are weird.
it's too bad that allie lives so far away, otherwise she could have been the second guest at sienna's birthday party.  it's also too bad that she is going to be taller than me very soon, otherwise i might have asked her out one of these days 😉
Tags : friends | 4 comments