i have been to aquariums in long beach and on maui, and i've even been to sea world in san diego.  but i'd never seen the fishies swim right near our home.  so when matthew invited me to check out monterey bay aquarium, i was super excited!
it was raining really hard when we got to monterey.  dada dropped us off right in front, but we still got rained on while walking to the aquarium entrance.  we were all wet, just like all the fish in there.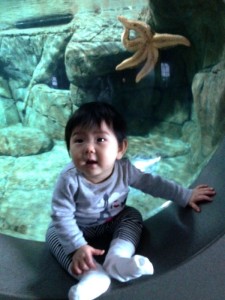 the monterey bay aquarium is so big.  we spent hours there, and i don't think we saw everything.  there were sharks, starfish, otters, seahorses, and lots of other really cool animals.  there was even a play area that had a slide and talking tubes for big kids like matthew and me, and a separate section with a water bed and bubble walls for babies like sienna.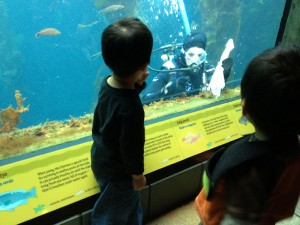 when i was little, i used to be scared of sharks, whales, and other big sea creatures when they swam right up to me.  not anymore.  i think they're cool, now.  (there was a weird fish called a scuba diver that sort of made me nervous though — it was almost human-looking.)  sienna definitely did not like it when the big sharks got right up in her face.  the starfishes and penguins were more her speed.
one of the coolest things at the aquarium is right outside the jellies area.  there are about a zillion sardines swimming laps in the ceiling.  i don't think it's an actual exhibit, but i was mesmerized by them.  everyone thought i was getting hypnotized, but i was actually trying to count them.  i kept losing track at 14.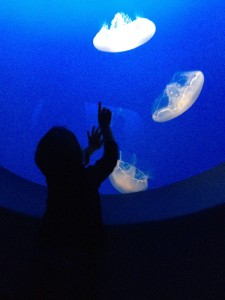 after running around the aquarium for a couple of hours, we headed to a pasta place down the street for lunch.  matthew is so lucky — he got to order a whole plate of pasta with butter and french fries!  i guess he's carbo-loading so he can bulk up.  i ate grilled chicken and veggies.  (i obviously wasn't going to eat seafood after spending the day with all those sea creatures, right?)  boring.  next time we go out to eat together, i'm definitely sitting by matthew so i can sneak food off his plate when nobody is looking.
we had planned to go to the dennis the menace playground after lunch, but it was pouring.  so instead, we went back to the aquarium and visited more sea creatures. good thing we did because that's when we met the alligator fish.  it's a fish that looks like an alligator — how funny!  we also checked out the jellies experience, which ended up being my favorite part of the aquarium.  there were lots of jellyfish, of course, but there were also fun interactive things to play with that taught us about jellyfish, how they grow, and how they move.
thanks for a fun day out, matthew!  next time, we'll definitely hit the dennis the menace playground.  and i call dibs on the seat next to you at lunch 😉
Tags : friends, local hotspots | 1 comment