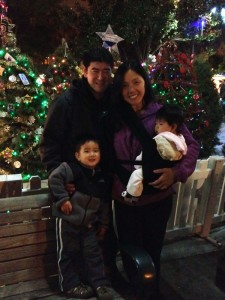 everyone said that christmas had passed, but we found it again in the park.  we went to christmas in the park after christmas this year because we wanted to wait for auntie mimi to get back from vacation so she could go with us.
just like last year, i had a blast looking at all of the colorful lights and decorations.  even baby sister was wide-eyed with excitement, trying to take it all in.  it was so cool to see people skating in the ice rink.  we stopped to watch them for a little while.  i have skates, but theirs looked different than mine.  mommy said that i could go skating when i am big enough to fit into the rental ice skates.  i wonder when that will be.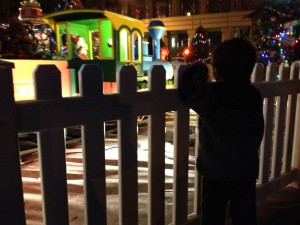 the best part of christmas in the park was the train.  at first, i just watched it pass by.  so cool!  but then i realized that it wasn't a real passenger train — it was just for decoration — so if i ran really fast, i could get in front of it and watch it go by again.  so i ran.  really fast.  i ran after the train, and mommy and dada ran after me.  it was like a scene out of the movies when a little kid runs into a crowd of people and disappears in and out of view because he's so little and the crowd is so big.
i can't wait to go again!  last year, auntie barbara went with us.  this year, auntie mimi.  i think we should make it a tradition to bring my favorite aunties with us to christmas in the park every year.  who wants to join us next year?
Tags : local hotspots | 2 comments