most kids say that christmas is their favorite holiday, but i just looove halloween.  and what's not to love?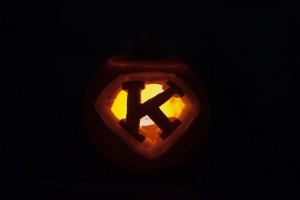 first, there are the pumpkins.  dada got a pumpkin for everyone in the family, and we were all going to carve our own jack-o-lanterns.  but mama was a pumpkin hog and she wanted to make three of them into angry birds.  she sure is obsessed with that game.
i liked helping mama sketch her designs onto the pumpkins, but then she tried to make me clean the insides out of the them.  as soon as my hand touched the slimy pumpkin guts, i was done.  gross!  so, i let mama do the rest.  and since mama made my pumpkin into an angry bird, i took baby sister's.  i had to have a jack-o-lantern that matched my halloween costume, just like last year 🙂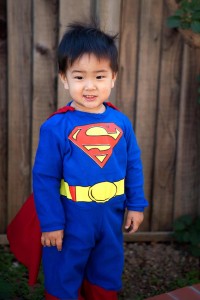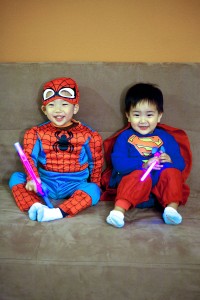 matthew came over to go trick-or-treating with me, but before we could go, we had a halloween dinner.  we made our own pizzas!  how fun!  i kept putting more and more and more cheese on mine.
then, we got dressed up and went trick-or-treating around the neighborhood.  i knocked on the doors, and matthew said "trick or treat!  happy halloween!"  matthew and i made a great team.  (baby sister stayed at home to help dada give out candy.)
after our treat bags were full, matthew and i went back home.  but that wasn't the end of the fun.  kids were still coming to the door, so matthew and i took over the candy-giving duties.  opening the door and giving out candy was just as fun as trick-or-treating.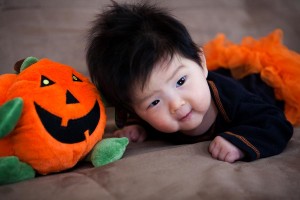 what a fun night.  we had a blast!  matthew is such a fun trick-or-treat buddy that i hope to make this a halloween tradition — trick-or-treating with matthew around our neighborhood, and maybe even the pizza-making 😉  but somehow, i have a feeling that baby sister will want to tag along next year.
(click here to see more halloween photos.)
Tags : halloween | 3 comments