Posted by
kyden
on
Wednesday Aug 31, 2011
Under
sienna
during the week, most of my friends go to daycare while i stay home with miss denise, my nanny.  we do fun stuff at home like coloring, reading, learning numbers and ABC's, and playing with my toys.  we also go out every day to walk with koda, play with the ducks at the pond, and run around at the playground.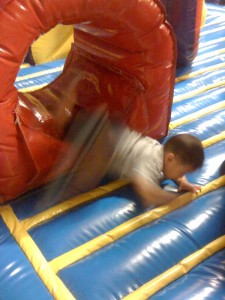 ever since baby sister came along, mama has been playing hooky from work and taking her out.  no fair!  i like staying home with miss denise, but i want to go out to fun places with mama, too!  so baby sister and i made a deal.  some days, i'll stay home and mama will go out with baby sister.  and some days, baby sister will stay home with miss denise and mama will take me out on playdates.  good plan, right?  but then i remembered that most of my friends are in day care 🙁  but not edison!
today, edison and i met up at pump it up jr.  i had been there before for maddie's 2nd birthday, and i hated all the bounce houses.  mama wasn't expecting me to have much fun in the inflatables, but she figured that i could play on the slides and ride in the cozy coupes.  plus, it would be cool just to hang out with edison.  but guess what.  i had SOOO MUCH FUN!  edison and i climbed, slid, ran, and bounced all over the place.  what a blast!  and even after mama got kicked out of the inflatables (she wasn't wearing socks, which is required for all jumpers) i ran around and played by myself.  mama couldn't believe that i was having so much without her.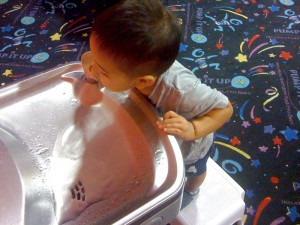 one of the best parts of the day was playing with the water fountain.  mama has never let me drink out of a water fountain before, but she didn't have the energy to stop me, today.  i climbed up on the step stool, pressed the bar to turn it on, and stuck my face into the stream of water.  some of the water made it into my mouth, but most of it drenched my shirt.  mama had to take my shirt off and wring it out over the sink.  good times 🙂
edison and i had such a fun time today!  mid-week playdates are the best because all my local hotspots are less crowded than on the weekends.  so if anyone wants to play hooky from daycare, gimme a holler!
Tags : local hotspots, nanny | add comments