Posted by
kyden
on
Saturday Jul 30, 2011
Under
sienna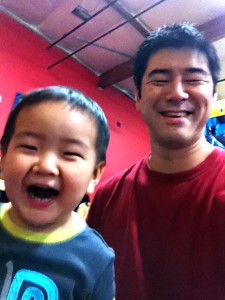 ever since baby sister came along, mama hasn't been able to spend as much time with me as usual.  it seems like she is feeding baby sister all the time.  but that's okay — it has given me and dada a chance to do some male-bonding.  like, if mama is busy when it's time for lunch/dinner, dada makes my meals and helps me eat.  and if mama isn't available to do my bedtime routine, dada helps me wash up and puts me to bed.  and if i get up in the middle of the night, dada comes to tuck me back into bed and stays with me until i fall back asleep.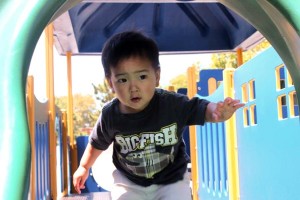 dada says that baby sister is still too young to go out in public (and you thought i was going to be the overprotective one!).  and since mama has to stay home to feed her, dada and i have been going out by ourselves a lot more, lately.  dada takes me to gym class, he swims with me during swim class, and we go out to do other fun things, too.  the other day, we went to the park with grandma and auntie barbara to have a picnic and play in the playground.  fun!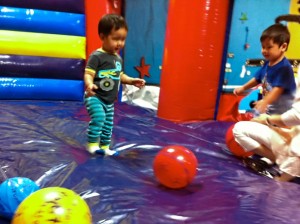 tonight, we went to pump-it-up for clare's birthday.  it was a pajama party.  how cool!  it was my first time getting to go out and play in my pajamas.  since i have never liked jumpy "earthquake" houses, mama and dada thought i was going to hate it there.  well, i'm still not a fan of the earthquakes, but i had a blast playing on the slides!  both dada and i got a good workout.  plus, i made a new friend and got some awesome toys to take home in my goodie bag 🙂  happy birthday clare!
i've been having a great time hanging out with dada — he's my new BFF.  but i hope baby sister can come out with us soon.  i can't wait to introduce her to all my friends and show her all my local hotspots!
Tags : friends, local hotspots | 3 comments