my baby bro/sis is coming soon, so mama and dada have been doing lots of things to prepare.  i'm doing my part, too.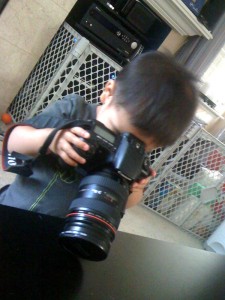 for one thing, i've been working on my photography skills.  mama is so disappointed that she doesn't have more photos of me (iphone photos don't count) from when i was a baby.  but mama and dada were just too tired to take too many newborn shots.   so i'm going to be the family photographer and i will take lots of photos of the new baby.  my first goal is to be able to lift the heavy camera and lens so i can take pictures of something other than the tabletop.  one step at a time.
mama and dada have been doing lots of things to prepare me for the baby, but nobody has really been preparing them.  so i thought i'd help out.  i have been sleeping in my race car bed in my new room for almost two weeks now.  i was napping well and sleeping my usual 9-10 hours at night.  but since this past weekend, i started climbing out of bed and waking up mama and dada (and koda) at 3:30am… 5am… all hours of the night.  in preparation for the new baby, i want to make sure that nobody gets used to sleeping more than a few hours at a time.  just like earthquake or fire drills, i'm running baby-preparedness drills for the whole family.  isn't that nice of me?
i think we're all ready for the baby to arrive!
Tags : sleep | 4 comments