my friend matthew turned 4 today, and he had a "super science party" to celebrate!  i didn't know what that was, but it sounded like fun.  like a lot of other birthday parties that i've been to, i got to play in the playground (slides are still my favorite!), i got to eat lots of yummy food, and i got to hang out with my friends, aunties, and uncles.  it seemed just like a normal birthday party to me.  but then… a man showed up wearing a lab coat, and he set up a table of science stuff.  he said he was a scientist.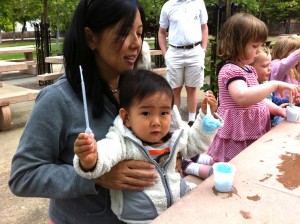 all of the big kids gathered around the table, and the scientist guy guided them through a series of experiments.  all the grown ups and little kids (like me) watched from a distance as they did things like poked balloons without popping them and made slime with a magic powder that soaks up lots of water.  it looked so fun that i had to get in on the action!
i dragged mama to the table with me so that i could use her as a booster chair.  i got my very own pipette and i mixed stuff together to cause a chemical reaction.  i made space mud!  it was so cool!  i even got to bring it home with me.  (mama and daddy are very excited about that.)  the scientist guy said that i was the youngest participant in any of his science adventures.  yay!  i wonder if i'll make it into the guinness book of world records.
happy birthday matthew!  thank you for inviting me to your super science party. science is fun!
Tags : friends | 7 comments