i had a fun party weekend.  i had TWO birthday parties to go to!  on saturday, we went to logan's party, and on sunday was edison's.  logan and edison were actually born on the same day.  cool, huh?  it turns out that they have the same birthday as daddy, too!   daddy says that only the coolest of cool guys are born on that day.
when we first got to logan's party, i walked into the restaurant and only saw grown-ups!  i immediately tried to leave — i don't like it when i'm the shortest person in the whole place.  but as more and more of my friends started arriving, i started to have more fun.  and it was so nice to see some of my buddies (like sierra and zachary) that i don't get to see often.  i also found a girlfriend!  her name is kimora.  (i think that's how it's spelled — we didn't talk much, if you know what i mean.)  when i first met her, she shared her book with me.  and then out of the blue she started stroking my chest, so i reached out to hug her.  mama was surprised to see how affectionate i was with kimora because i usually only flirt with older women (like, 20+ years older).  i don't know when i'll see her again because she lives far away, but i guess we can do the long-distance thing.  oh, and shhh… logan doesn't know about my girlfriend — she's his cousin.  and now that i think about it, i don't think kimora knows either.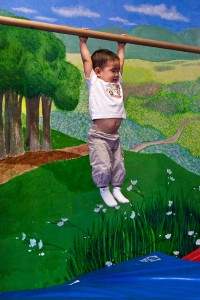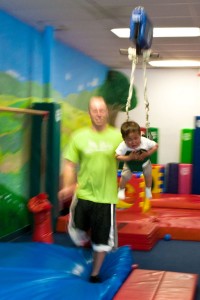 edison's party was at a place called my gym.  i had never been there before, but it was so much fun!  there was a ball pit, uneven bars, a trampoline, and a "car wash" complete with bumpers, bubbles, and brushes (pom-poms).  my favorite things to play on were the high bar and the slide.  i climbed up and slid down at least a dozen times.  i was having a blast until…  dun dun dun… the zip line.  it's like a playground swing, but 100 times worse!  mama and daddy knew that i was going to hate it, but mama made me try it anyway.  TWICE!  she is so mean.  i hope i get to go back to my gym again soon, but i am not going anywhere near that zip line.
happy birthday to the cool guys, logan and edison.  thank you for inviting me to your parties!
Tags : friends | 7 comments