Posted by
kyden
on
Thursday Feb 24, 2011
Under
sienna
hey everyone!  i have an exclusive story for you.  are you ready?
from the makers of kyden q. (that's mama and daddy)…  the sequel!  coming soon, to a hospital near you.
that's right, I AM GETTING A LITTLE BROTHER!!!  well actually, i don't know if it's a boy or a girl, but i'm pretty sure i'm getting a brother.  here's why: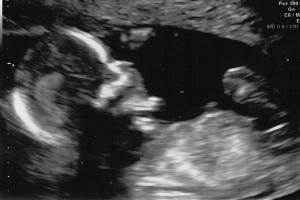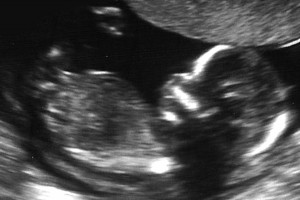 <– look at this handsome boy.  this is me at 16 weeks gestation.
and this is my new baby at 16 weeks. –>
stunning resemblance!  i am cuter, of course, but baby looks just like me when i was his age, right?  so he must be a boy.  yay for my baby brother!
mama says that she is going to tell everyone that the baby is a boy.  but i'll let you in on a secret — the only people that actually know whether it's a boy or girl are mama's doctors.  she keeps telling them not to spill the beans because she wants to be surprised.  daddy keeps trying to find ways to get a peek at the baby's private parts so that he can find out the gender.  he says that it would be nice to be able to prepare.  but like mama says, what's there to prepare for?  baby can use all of my old infant gear and my old clothes.  and even if "he" ends up being a "she", little girls look cute in blue, right?
baby is due to arrive on august 1, 2011.  if you're trying to do the math, that would make us 22 months apart.  mama and uncle jamie (her brother) are 23 months apart, and they always had a close relationship growing up together.  i hope that's how me and my little brother are gonna be, too.  mama and daddy have accepted that their lives are going to be hell for the next few years, but they're both very excited about our new baby — no matter if it turns out to be a boy or a girl.  i think i'm excited too, but i'm not quite sure.  i'll keep you posted.
and when information about my sequel goes public, remember where you heard it first… right here on kyden's korner!
Tags : | 17 comments