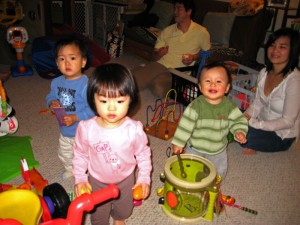 on friday night, edison hosted a playdate.  chloe and i went to his house and ate his food and played with his toys.  and OMG, he has so many toys and books!  no wonder he is always smiling and in such a great mood.  i was having such a blast playing that i didn't want to eat at all.  i just wanted to play play play.  edison is such a good host, and he is really good at sharing.  but that could have something to do with the fact that both chloe and i are bigger than him and can run faster 😛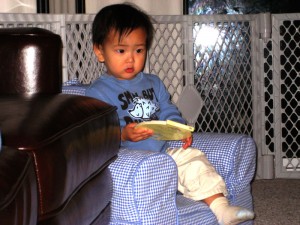 one of my favorite things at edison's house is an awesome lounge chair that is just my size.  it is so much more comfortable to sit and read in his chair than in my hard plastic booster seat or activity table.  for almost a month, mama has been promising me a kyden-sized chair, but i still don't have one!  so when we got home from edison's house, i made her order one right away.  she says that she didn't end up ordering the one that she had originally planned, but got one that i'll like even better!  it's supposed to be delivered on tuesday, so i guess we'll see.
saturday was auntie ann's birthday.  i didn't think that grown-ups had birthday parties because i've only ever been to kid parties.  but edison and uncle newton threw a surprise birthday lunch for auntie ann!  how nice of them, huh?  and nice for mama and daddy, too.  i guess they need playdates and birthday parties for themselves and their old friends once in awhile.  see, so don't believe it when mama and daddy say that my social calendar rules their lives.  sometimes i have to chaperone their playdates, too!
thank you to edison for hosting a weekend of playdates for the whole family!  (and to auntie ann: thanks for taking these photos.  hope you had an awesome birthday.)

Tags : friends | add comments